Emile Levassor's biography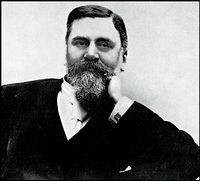 Nicknamed "the father of the Automobile", Emile Levassor was born on January 21, 1843 in MAROLLES-en-HUREPOIX. Son of a farmer, he studied engineering at the Ecole Centrale. He enters "PERIN-PANHARD" after a short stint at Cockerill, Belgium.
In 1886, after the death of PERIN, his friend from the Ecole Centrale, René PANHARD, asked Emile LEVASSOR to associate with him. Very quickly, the two men perceive the future promised to the engine. They begin the manufacturing, under license, Otto and Langen gas engines and the Daimler oil engine before embarking on the great adventure of automobiles powered by a light petrol engine.
Supported by the widow Sarazin whom he married in 1890, Emile LEVASSOR, brilliant and stubborn, never stops working; day and night, he invents, perfects and does not hesitate to "try" his innovations. He files patents.
He participates in all car races. With unparalleled courage, he won the first car race in the world: PARIS-BORDEAUX-PARIS in 1895 in 47 hours and 47 minutes, barely taking the time to stop.
Injured in an accident to avoid a dog in the Paris-Marseille race of 1896, he remained tired and fragile but, stubborn, it did not prevent him from working.
He collapsed on his desk on April 14, 1897 while he was busy drawing the plane of a magnetic clutch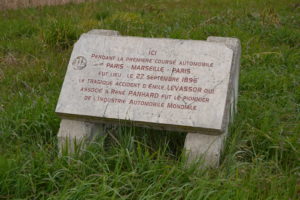 The stele erected in 1990 at the place where the tragic accident took place near the village of Lapalud (Vaucluse)
Monument to the glory of Emile LEVASSOR, directed by Camille Lefevre after a sketch of the scupleur Jules Dalou inaugurated on November 26, 1907 at the entrance of the Bois de Boulogne, then moved in 1972 Porte Maillot in Paris.
Other interesting link "Paris-Bordeaux-Paris" and the monument dedicated to Emile Levassor:
Click here