Jean Pierre Meynard published this beautiful photo on the Facebook group of the Doyennes. This is a Dynamic 1938, taken outside the home of his parents in St Chamond in the 80s. The car is still in the vicinity …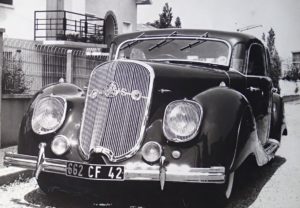 Mr Thuillé kindly sent us this photo from his family album.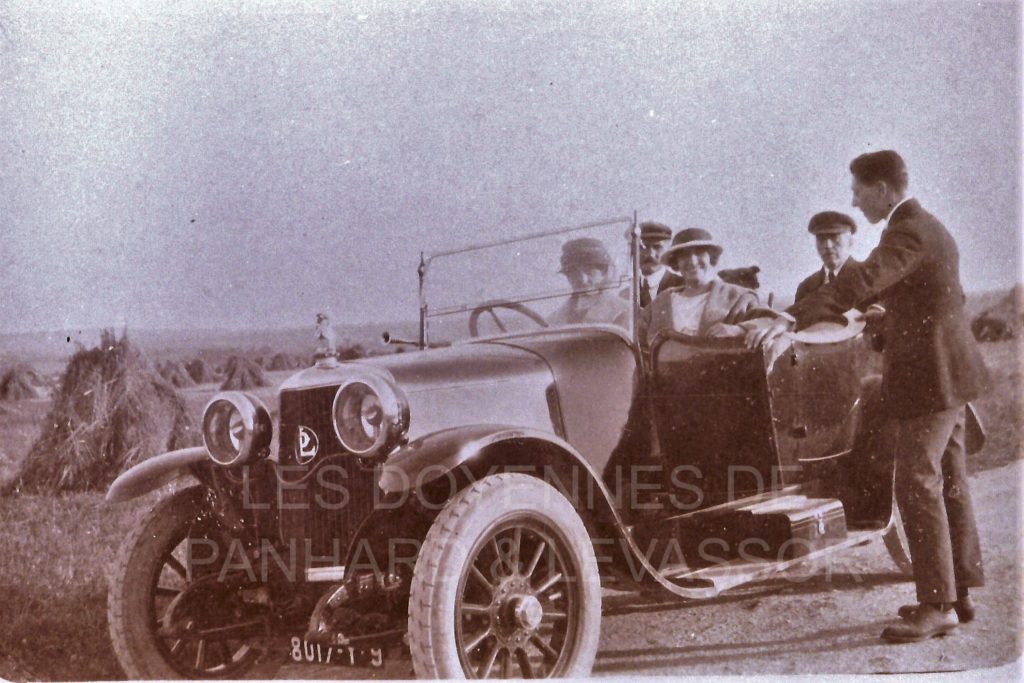 You can see members of his family there. The two women at the front are the great grandmother (driver) and her grandmother. We can assume that they took place at the front for the photo, but who tells us that Louise was not really the driver …? In the back, her husband Gaston, who was a brickmaker in Sarcelles and the passenger's father.
The gentleman in the cap sitting behind the passenger, Victor was his great-grandfather authorized at a broker in Paris.
The standing gentleman is Mr. Thuillé's paternal grand uncle, whom he himself knew well.
The car: a P & L roadster undoubtedly released in 1919-1920. The license plate with a "Y" indicates to us the district of Rouen – Versailles (which regrouped anyway 8 current departments and 14 from 1922 …). The car looks like an X 19, but the doors may have been made by an independent bodybuilder. Similarly, the radiator mascot is certainly an article bought separately.
The photo was probably taken early in the morning or in the evening, given the light grazing .. We can assume that they were returning from a picnic in the countryside, whose freshly mown wheats, indicate a day in July or August.
A photo that breathes the tranquility of a Sunday in the countryside, thank you to Mr Thuillé for this nice document.
Philippe Bastid nous a fait parvenir ce joli document qui fût remis à un oncle de sa grand-mère en 1952. On y apprend que Christophe louis était entré chez Panhard & Levassor en 1920 . Il reçu donc ce diplôme pour ses 30 ans de service à l'Avenue d'Ivry…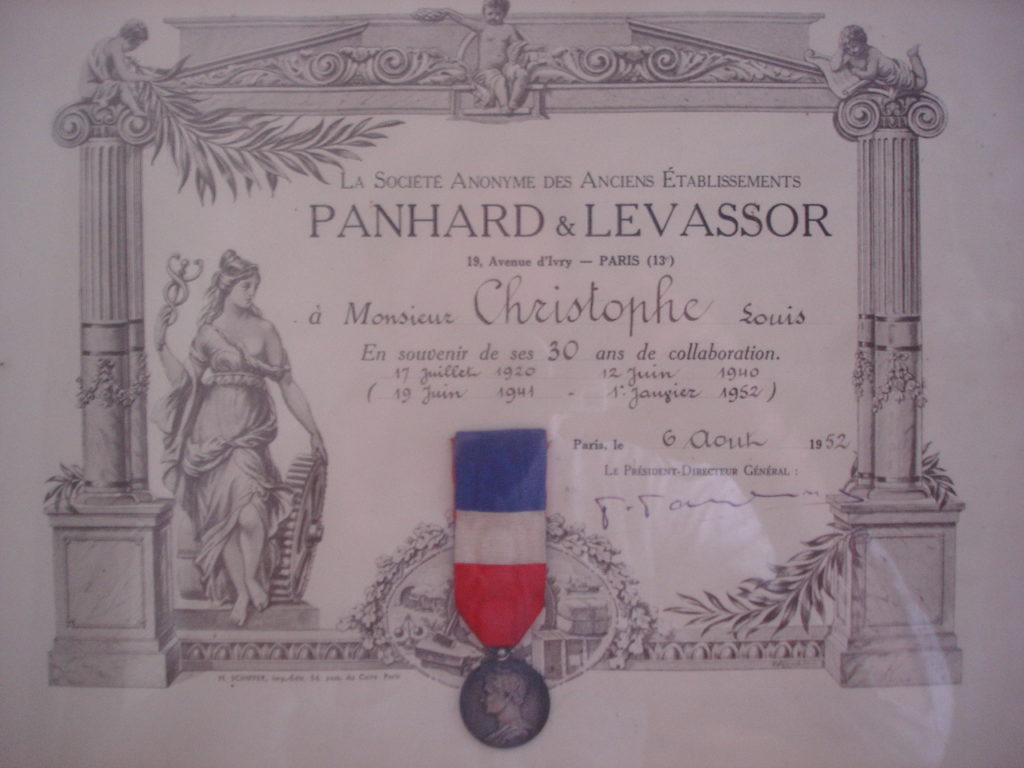 Mr Cluzet nous a fait parvenir des clichés d'une grande qualité qui furent pris en leur temps par son arrière-grand père et son arrière-grand oncle. Amateurs d'automobile et de photographie il n'en fallait pas plus pour aiguiser notre curiosité…Immersion à la fin du XIX siècle avec Mr Cluzet…
Commençons par Albert, l'ainé, l'arrière-grand oncle de Mr Cluzet;
Albert donc ( 1848-1898 ), est pharmacien de formation comme son père et son oncle, mais il prend vite la passion d'inventeur de son père. Il partage sa vie entre Luc-sur-mer en Normandie et Paris où il ouvre un magasin de photographie et électricité, Quai Montebello.
On lui doit entre autre la lampe à arc BERJOT qui éclairât l'exposition univesselle de 1889, ainsi que la lampe flash à bulle ou encore une machine à fabriquer les eaux gazeuses…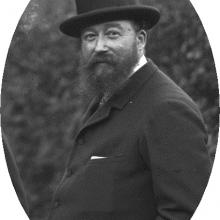 Albert Berjot amateur d'automobile, photographe et inventeur de la lampe à arc
Il se passionne rapidement pour l'automobile et achète une Peugeot à moteur Daimler assemblé par Panhard & levassor.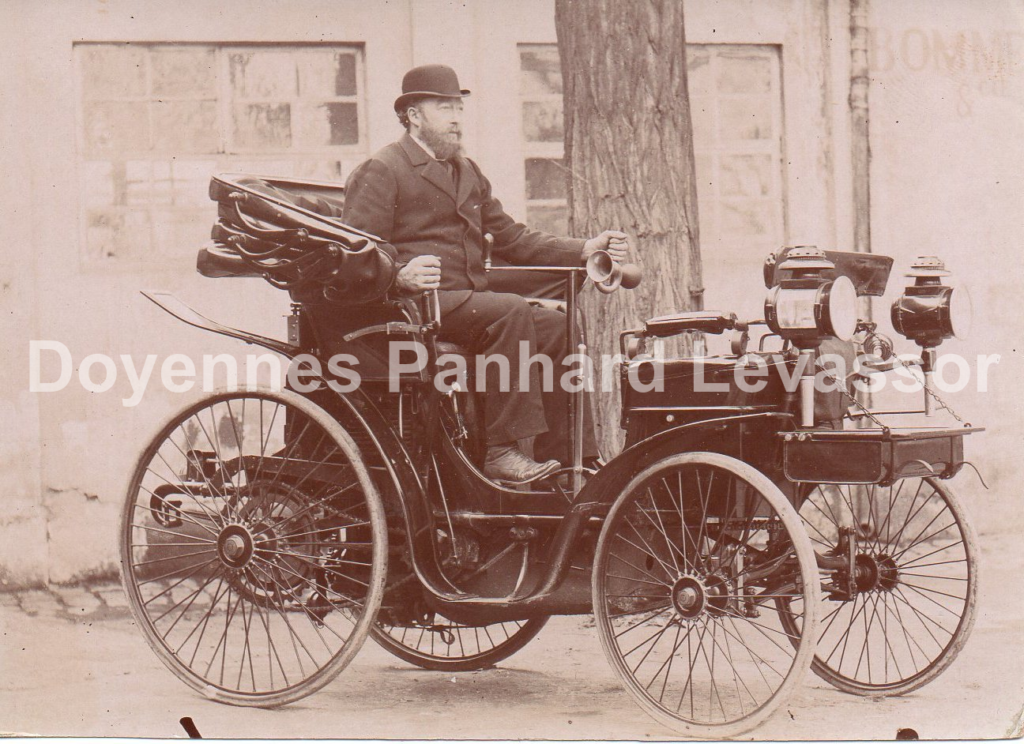 On le voit ici posant fièrement sur son véhicule fraîchement sorti d'usine. La ressemblance avec les clichés connus de rené Panhard et Emile Levassor sont frappants… Même costume, même chapeau et même pose… Même à l'arrêt , on reste concentré !
Malheureusement on ne peut pas lire le No du moteur et le type, mais on distingue bien sur la plaque la marque de l'avenue d'Ivry.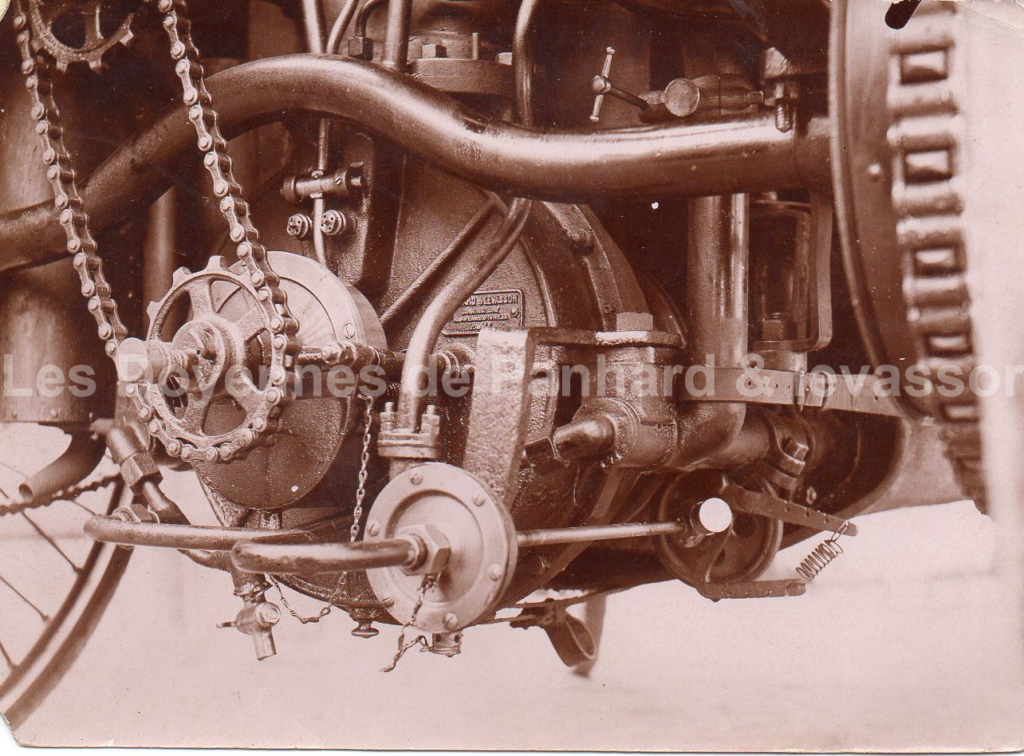 Dommage que la couleur n'existait pas à l'époque, on imagine les tuyaux en cuivres et la visserie en laiton…
Il s'agit là incontestablement d'une des premières Peugeot à moteur P&L sans doute aux alentours de 1898.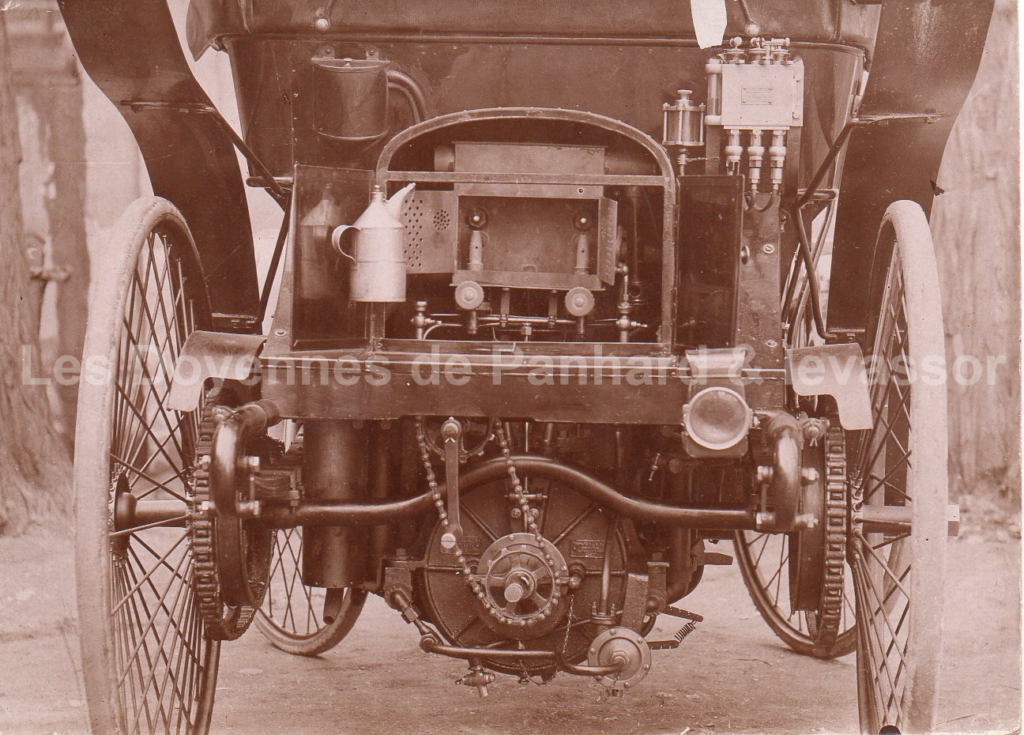 Un article de presse de l'époque le décrit caracolant au volant de son tricycle à vapeur Peugeot dans les rues de luc-sur-Mer.
Emile Berjot, le cadet, arrière-grand père de Mr Cluzet rentre dans la marine marchande comme pilotin ( commandant en second ) en 1872, puis comme commandant de bord ( il est nommé capitaine au long cours en 1878 )à bord du paquebot l'Orénoque des messageries maritimes.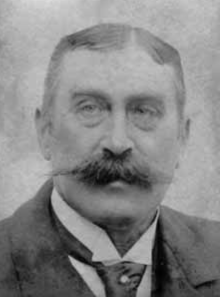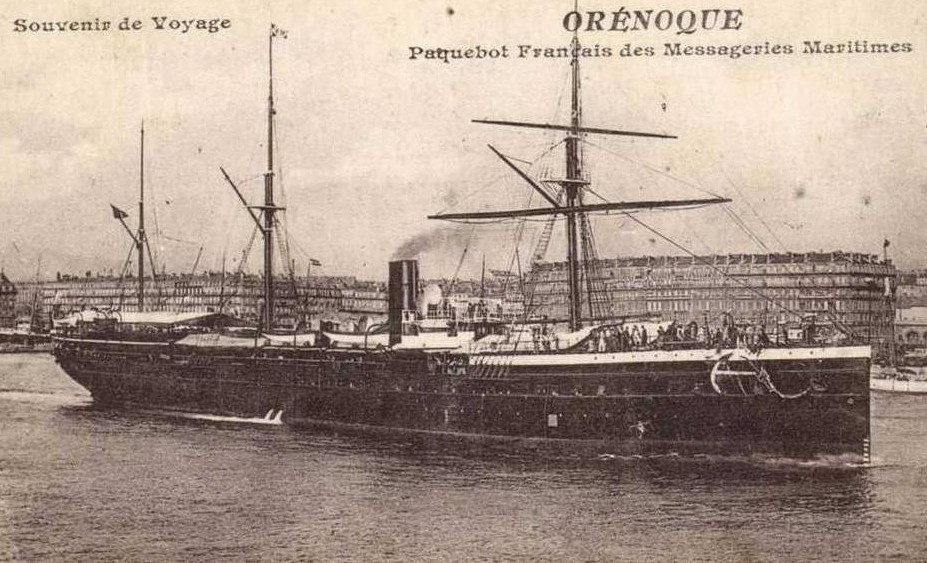 Ce paquebot mis en service en 1875 navigua pendant près de 50 ans, en méditérannée, en indochine, sur les lignes avec l'Amérique du sud, l'Afrique, avant d'être vendu pour démolition à Saigon en 1920
Le père d'Albert et d'Emile, Frédéric fût le premier photographe Caennais, fondateur de la Socièté Normande de Photographie. Ami d'Edmond Bacot (premier photographe professionnel caennais) il enseigne l'art et la technique de la photographie à Victor Hugo et à son fils Charles.
Emile Berjot, ne pouvait donc qu'être lui aussi passionné de photographie. Marin il va photographier l'environnement maritime qu'il côtoie tous les jours ( bateaux, passagers, ports etc ). On lui doit les premiers clichés de Rio de Janeiro dans les années 1880-1890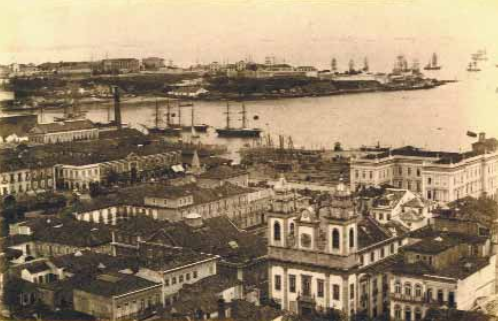 Une vue de Rio de Janeiro en 1895
Et l'automobile dans tout ça ? Et bien les voilà les deux frères dans leur Peugeot à moteur Panhard , sans doute à Luc-Sur-Mer en 1898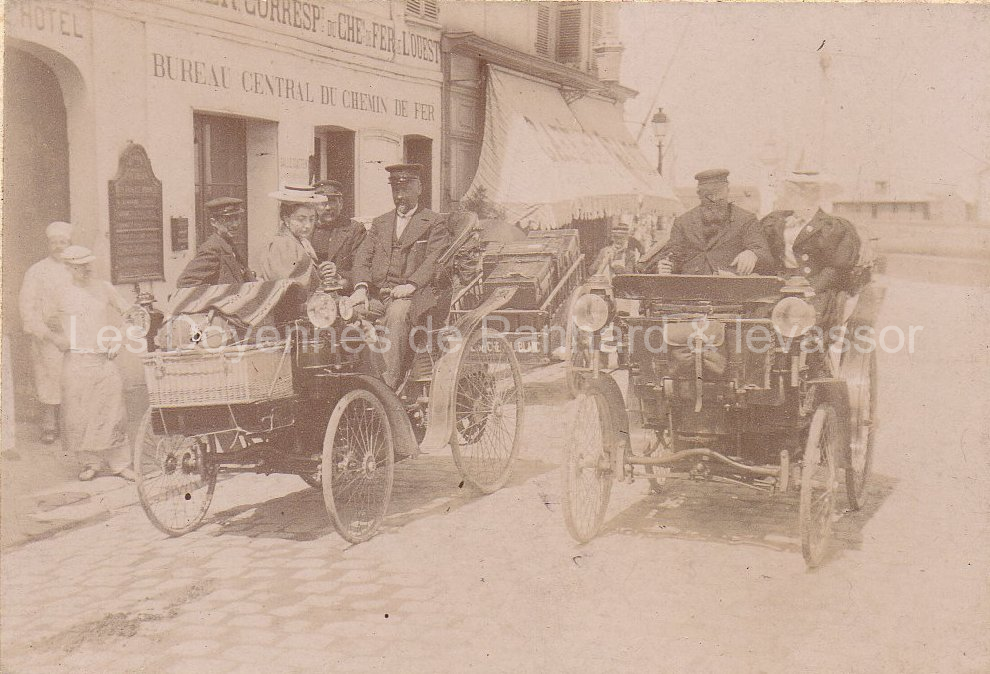 Emile se marie le 8 janvier 1896 avec Françoise Germaine Gaume en l'église St Honoré d'Eylau à Paris
On le voit ici au volant de sa Peugeot sans doute en famille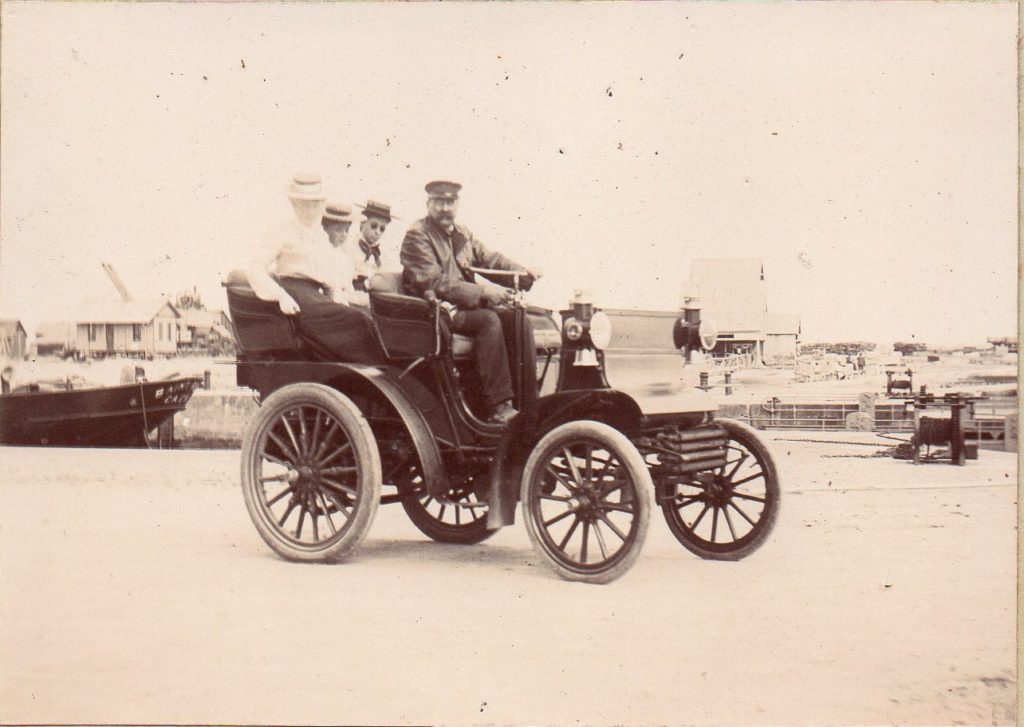 Des années plus tard on le retrouve passager de son torpedo Peugeot. Il a laissé le volant à son ami Mr Payen, chez qui le cliché a été pris en 1913 dnas les allées du château de Perron à Danvou (14). Derrière son arrière-grand-père Emile, son épouse et Mme Payen derrière son mari. Au centre, son grand-père Jacques Berjot (13 ans).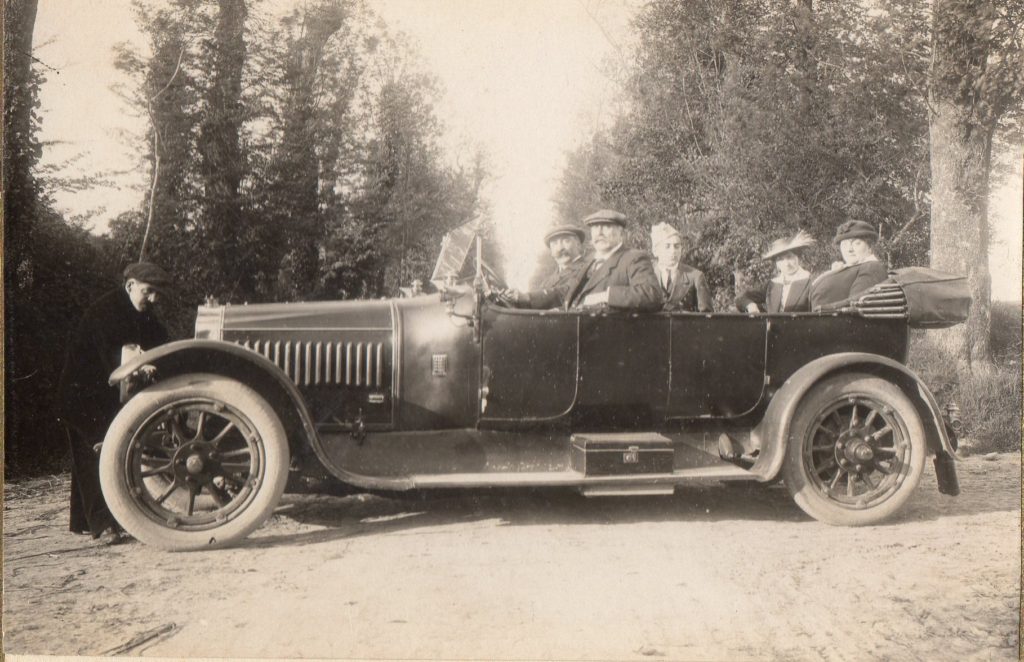 Enfin dernier document plus ancien celui-ci représentant Emile berjot l'arrière grand-père de Mr Cluzet, au volant de sa Peugeot toujours devant l'entrée du château de Perron.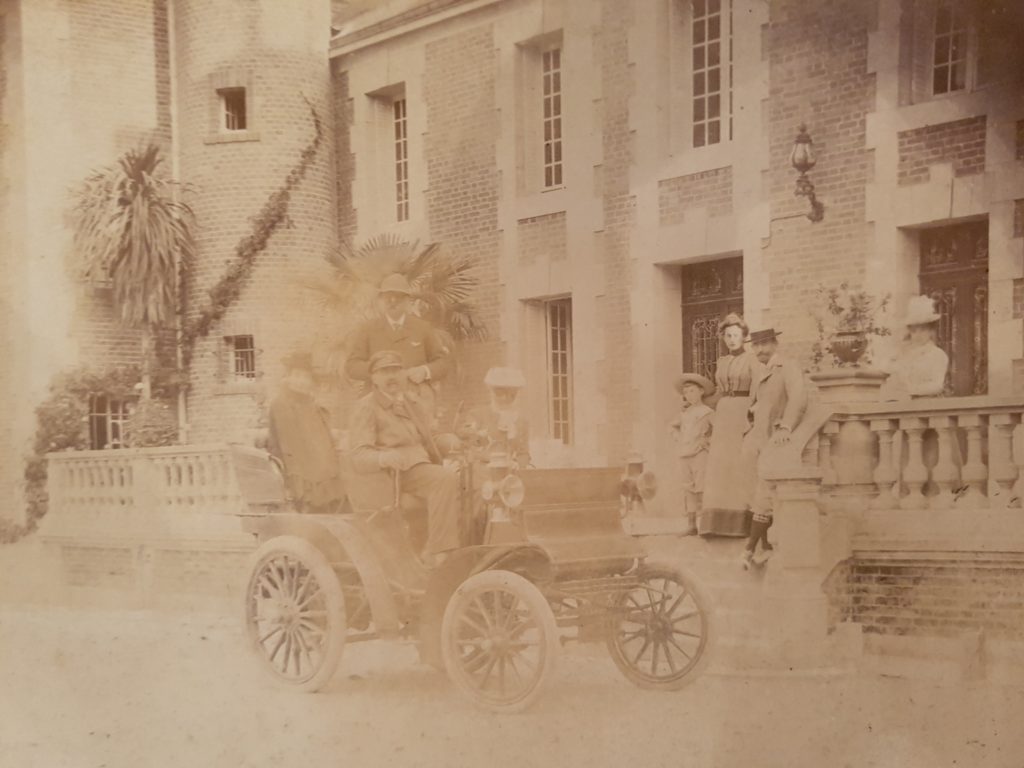 Un grand merci à Mr Cluzet qui nous à gentiment fait parvenir ces documents qui nous ont permis de découvrir des personnages sans doute atypiques et truculents à leur époque…
Monsieur Challine nous a fait parvenir cette photo de la Panhard de son grand-père prise en Octobre 1939. C'est sa tante qui pose sur la photo. La plaque minéralogique nous renseigne sur le département, ici la seine et d'après les recherches de notre ami Vincent celle ci aurait été immatriculée en septembre 1933.
Une belle photo en tout cas…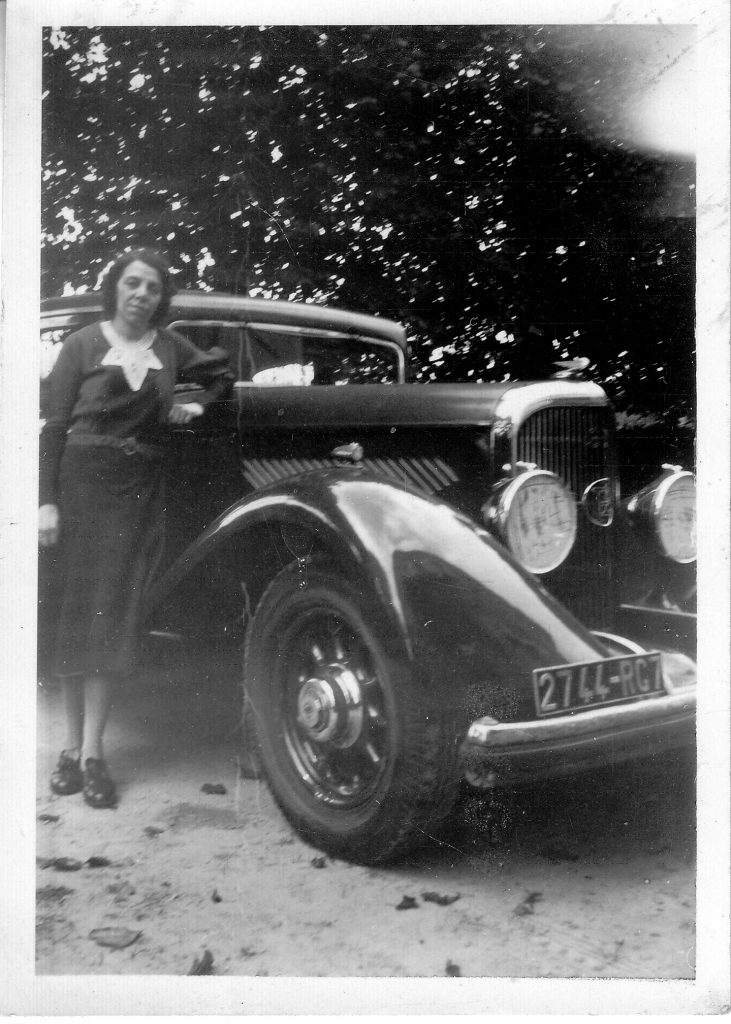 Une Dynamic vraiment familiale…
Mr Effler nous a gentiment fait part de ses souvenirs liés à cette superbe Dynamic de 1939 acheté par son grand-père en 1946…
Les petits cousins de Jacques Effler, Michelle et Alain , ont l'air bien petits à coté du mastodonte rutilant…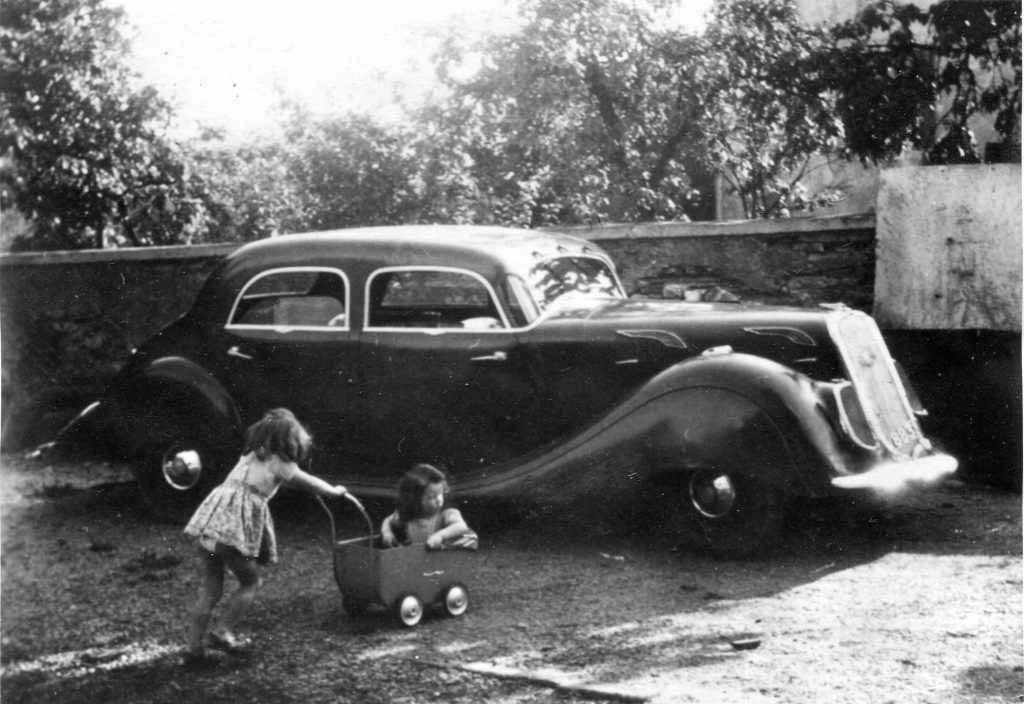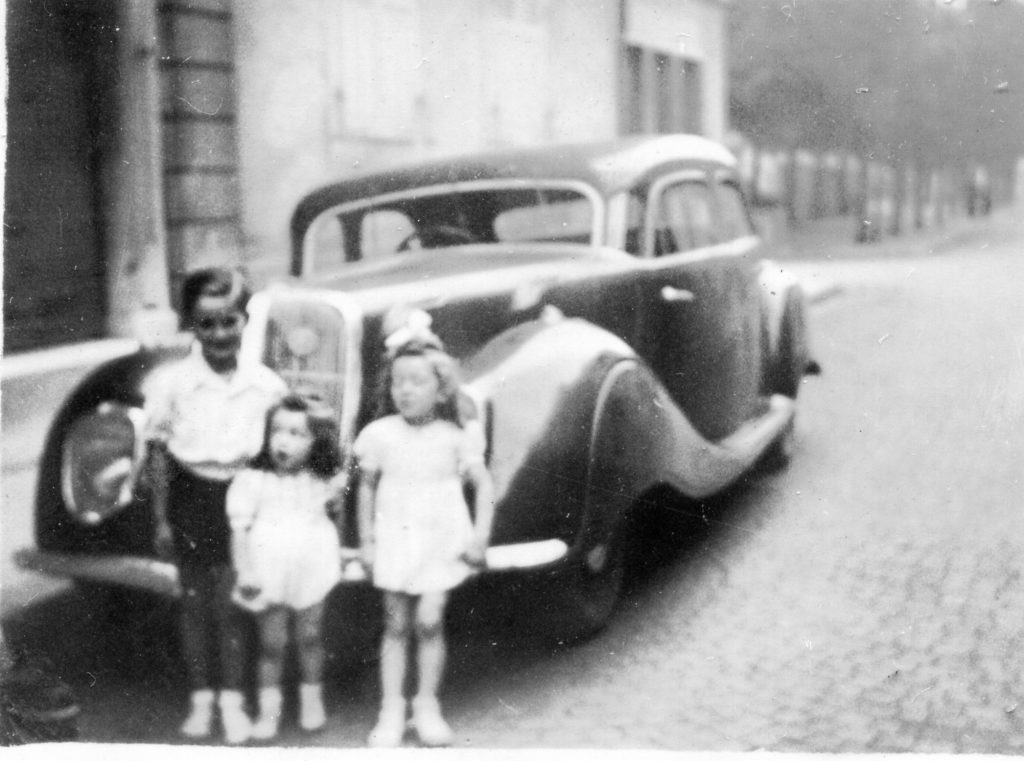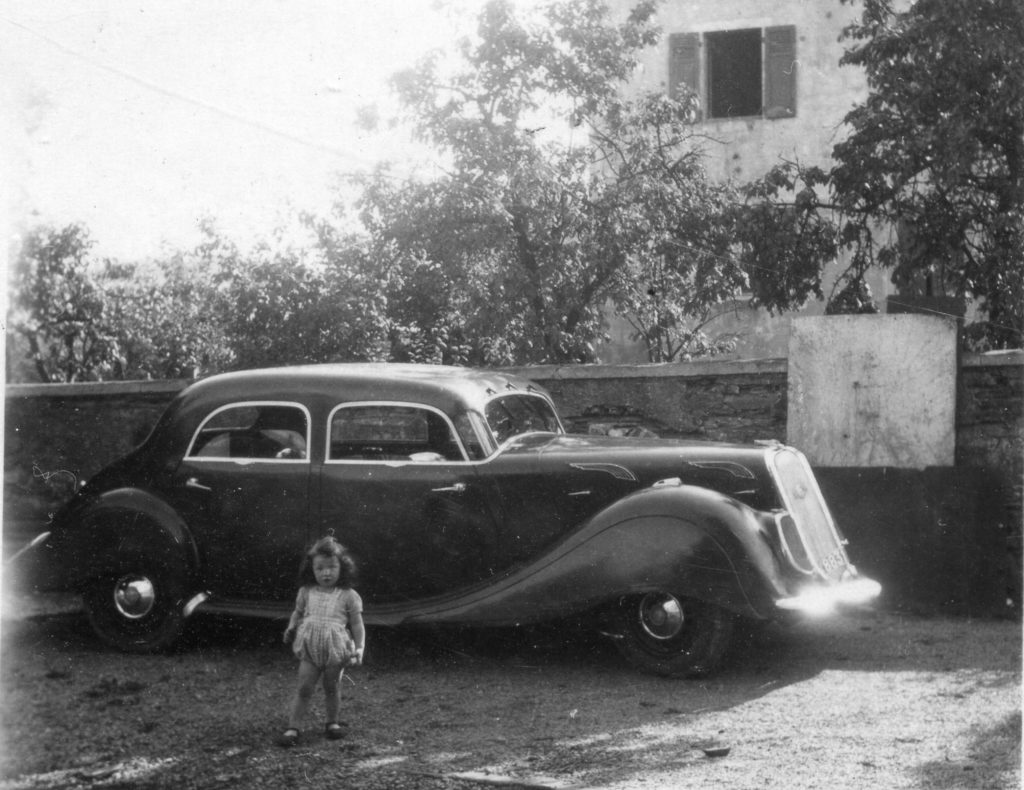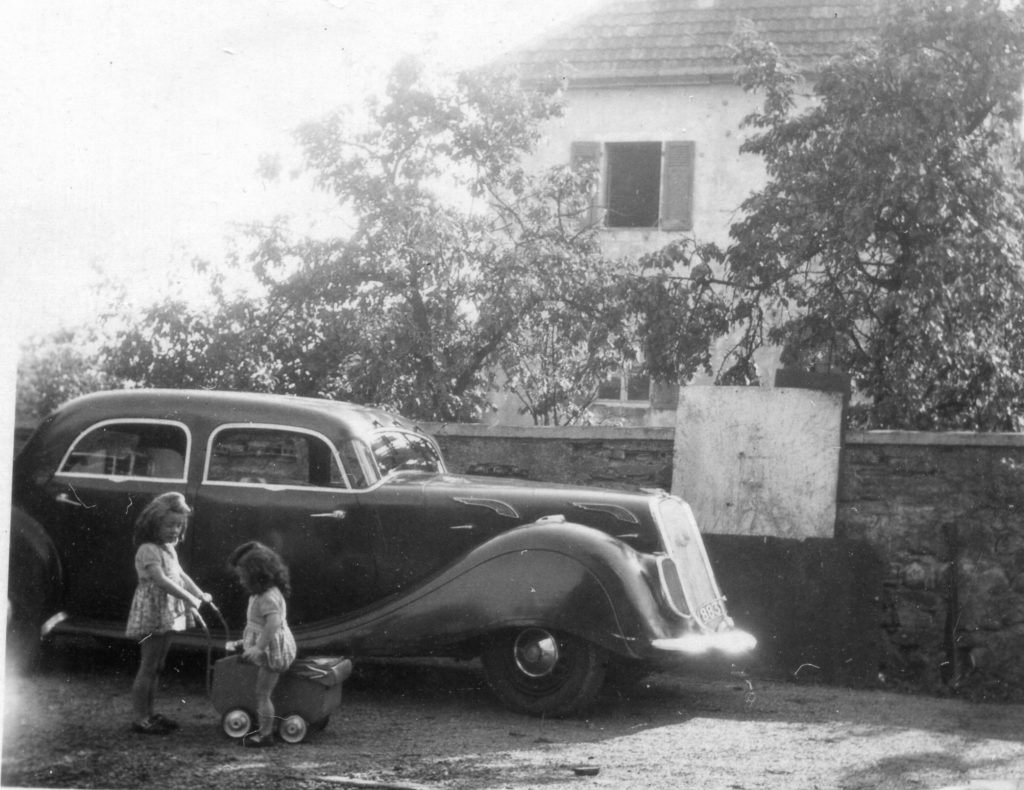 Pour en savoir plus sur cette saga prenez le temps de lire le texte de Mr Effler et laissez vous transporter dans les années de l'après guerre…
Lire les souvenirs de Mr Effler
Une X72 corse…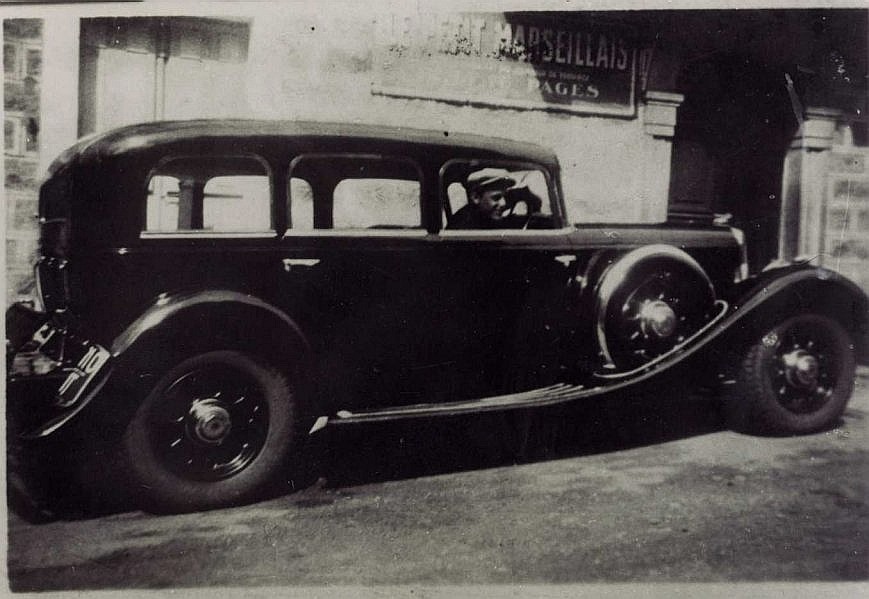 Régis nous a fait parvenir cette photo de son véhicule que la famille de l'ancien propriétaire avait bien voulu lui communiquer.
Vous pouvez retrouver sa voiture à présent restaurée dans la liste des membres.
La photo a été prise à Zevaco en corse du sud dans les années 30.
---
Hivers 1932
Notre ami Roland nous a fait parvenir deux documents:
Une jolie limousine 6 CS ou 6 DS ayant appartenu à la famille BOOS-PETITFRERE-DELANNAY famille d'industriels en filature à Crousilles et Proisy. Le numéro correspond bien à la Seine et Oise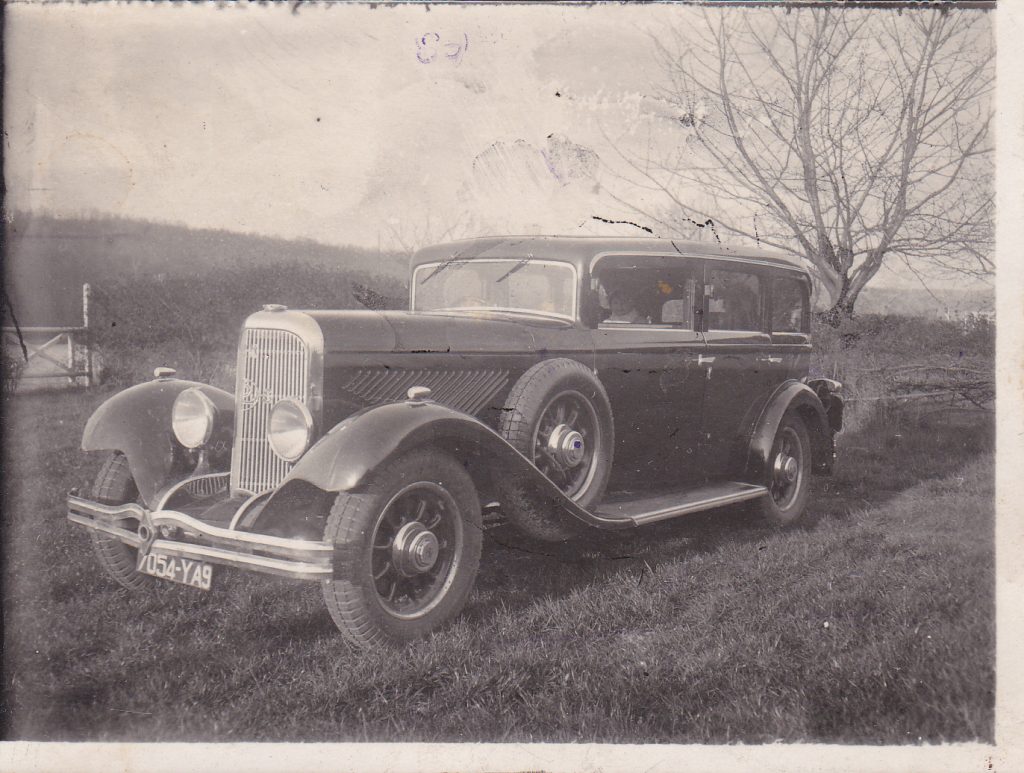 Carte postale d'une voiture de reprise de l'usine en carrosserie limousine, conduite intéreure 7 place, 20cv et sans doute une 6DS.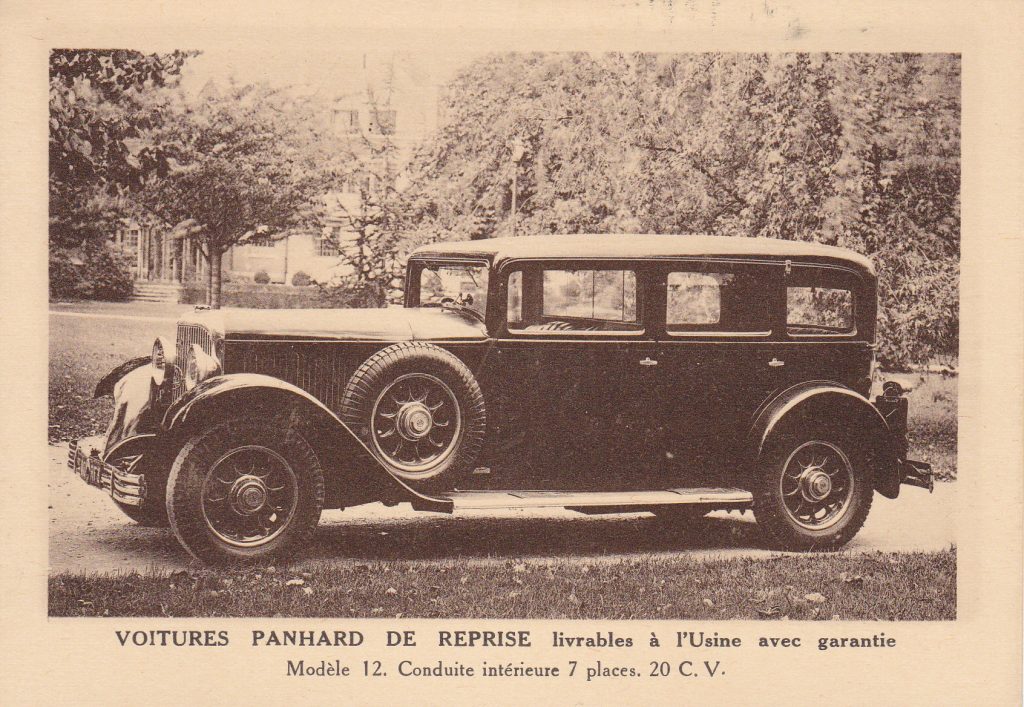 Hivers 1928
Mr Memponte nous a gentiment fait parvenir ces photos de famille. Pour la première, il s'agit d'une limousine Panhard & Levassor, 6 Cyl achetée neuve par son grand-père en 1927. La photo est prise au col de la faucille lors d'une pause. Pas de neige , mais sans doute un peu frisquet…La Pl du grand-père de Mr Memponte est à droite et c'est lui qui prend ses amis en photo.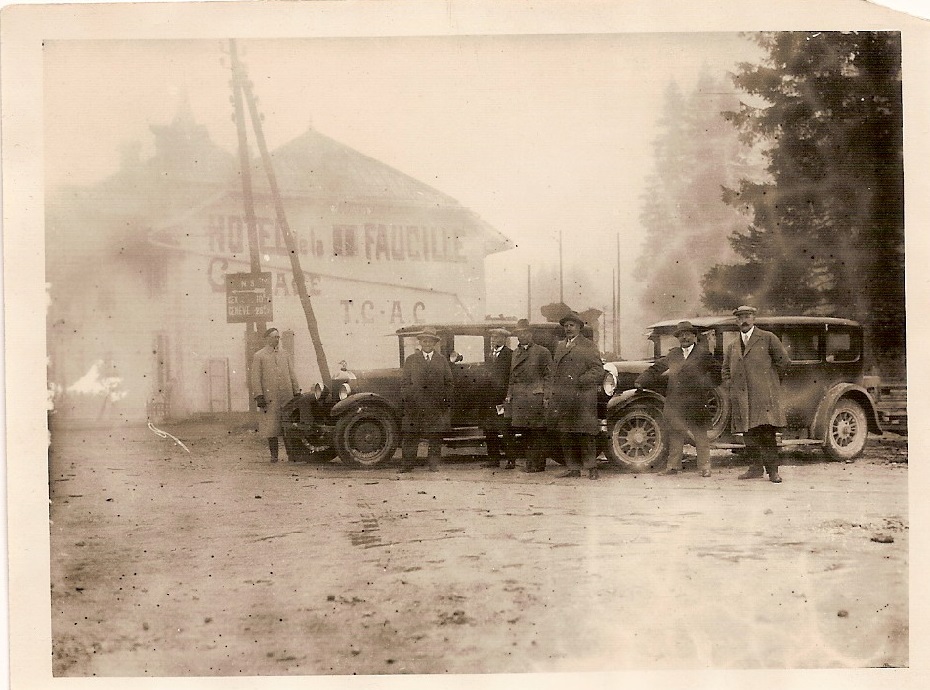 La deuxième sur une route enneigée. Pas de chaines à l'époque pour la 17 CV PL . On voit le père de Mr memponte et sa mère derrière dans une tenue guère adaptée aux conditions climatiques semble-t-il…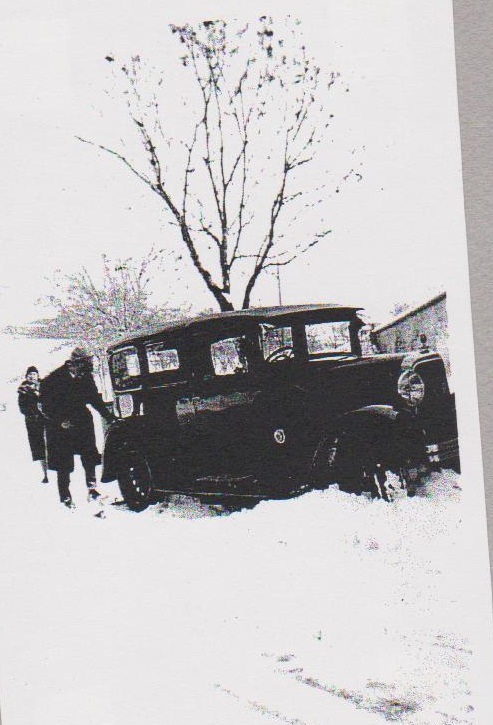 La troisième représente sans doute un torpédo dans un passage pour le moins difficile…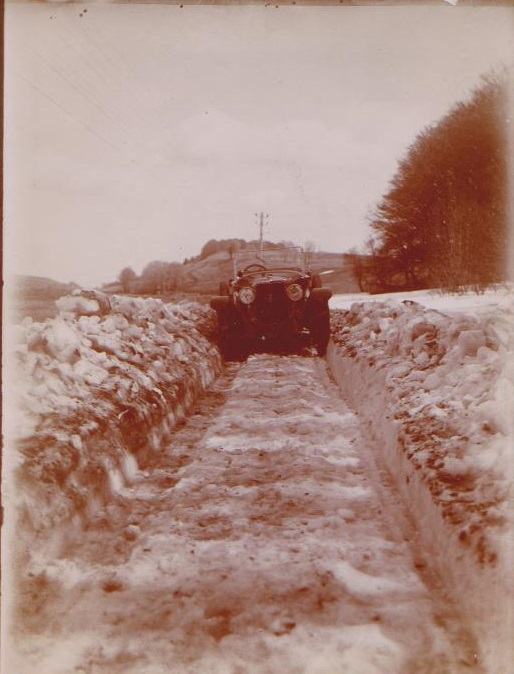 Luton (Maidlands, UK ) 1910
Notre ami Neil Burdock nous a envoyé cette magnifique photographie du début du siècle précédent. On y voit quatre P&L et une Renault à droite. Les plaques d'immatriculation sont bien anglaises et les inscriptions manuscrites nous renseignent sur les différents modèles. Merci encore à Neil pour ce très beau document.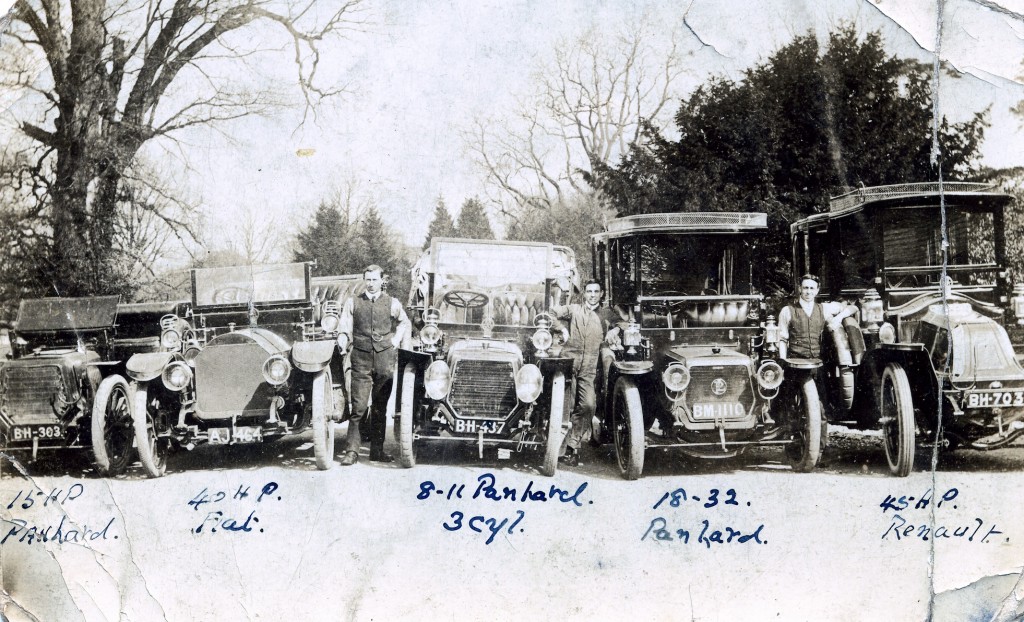 Philippe Bastid sent us this nice document which was given to an uncle of his grandmother in 1952. We learn that Christophe Louis had entered Panhard & Levassor in 1920. He received this diploma for his 30 years of service at Avenue d'Ivry …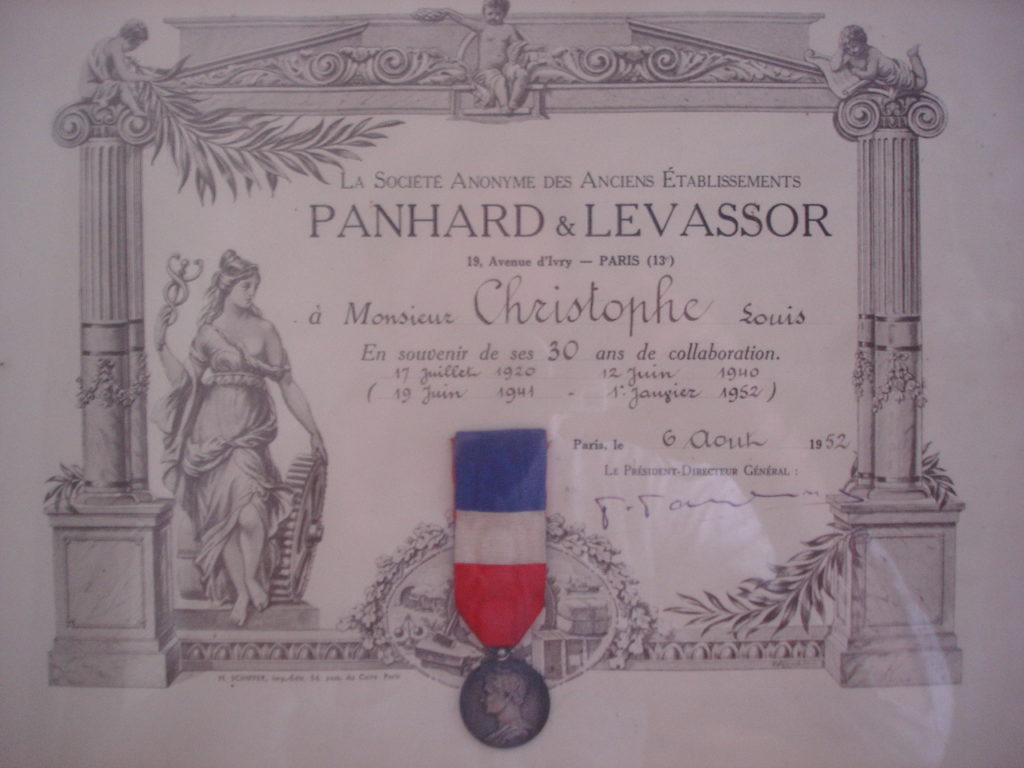 Mr. Cluzet sent us high-quality pictures taken in their time by his great-grandfather and great-grand-uncle. Lovers of cars and photography did not need more to sharpen our curiosity … Immersion in the late nineteenth century with Mr Cluzet …
Let's start with Albert, the eldest, the great-grand-uncle of Mr Cluzet;
Albert (1848-1898) is a pharmacist by training like his father and his uncle, but he quickly takes the passion of inventor of his father. He shares his life between Luc-sur-mer in Normandy and Paris where he opened a photography and electricity shop, Quai Montebello.
Among other things, he is responsible for the BERJOT arc lamp which illuminated the univestal exhibition of 1889, as well as the flashbulb lamp or a machine for making aerated water ..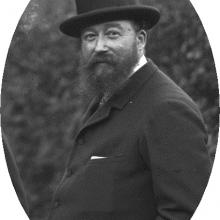 Albert Berjot car enthusiast, photographer and inventor of the arc lamp
He quickly became passionate about cars and bought a Peugeot with Daimler engine assembled by Panhard & Levassor.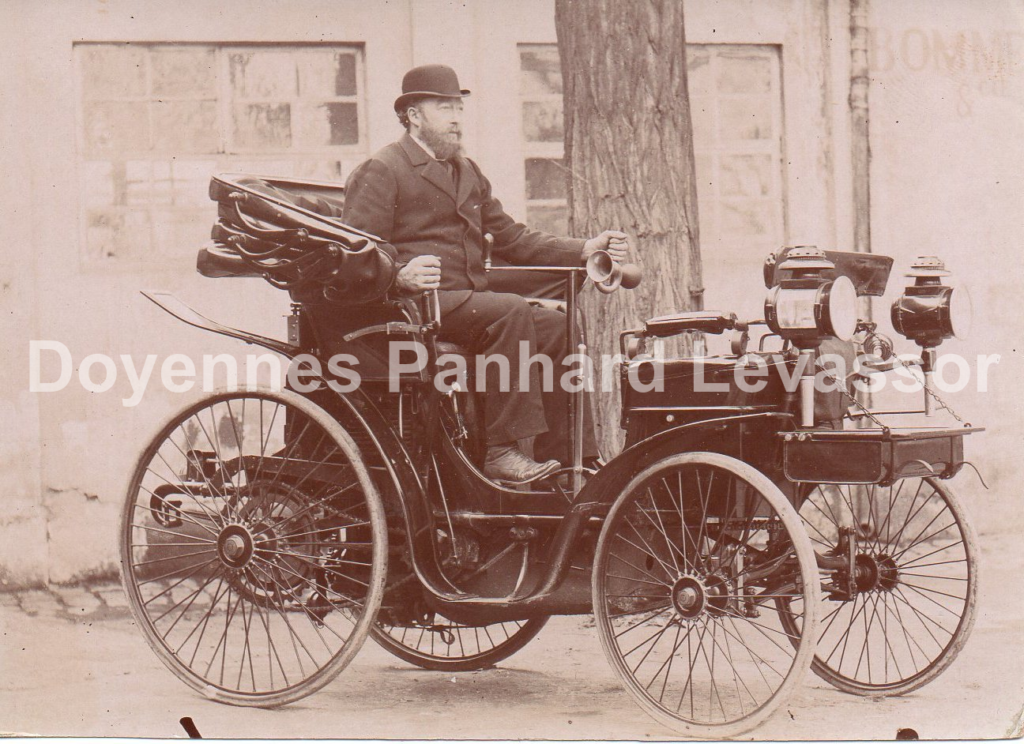 We see him here posing proudly on his vehicle fresh out of the factory. The resemblance to the known snapshots of Rene Panhard and Emile Levassor are striking … Same costume, same hat and even pose … Even when stopped, we stay focused!
Unfortunately we can not read the engine number and type, but we distinguish on the plate the mark of the Avenue d'Ivry.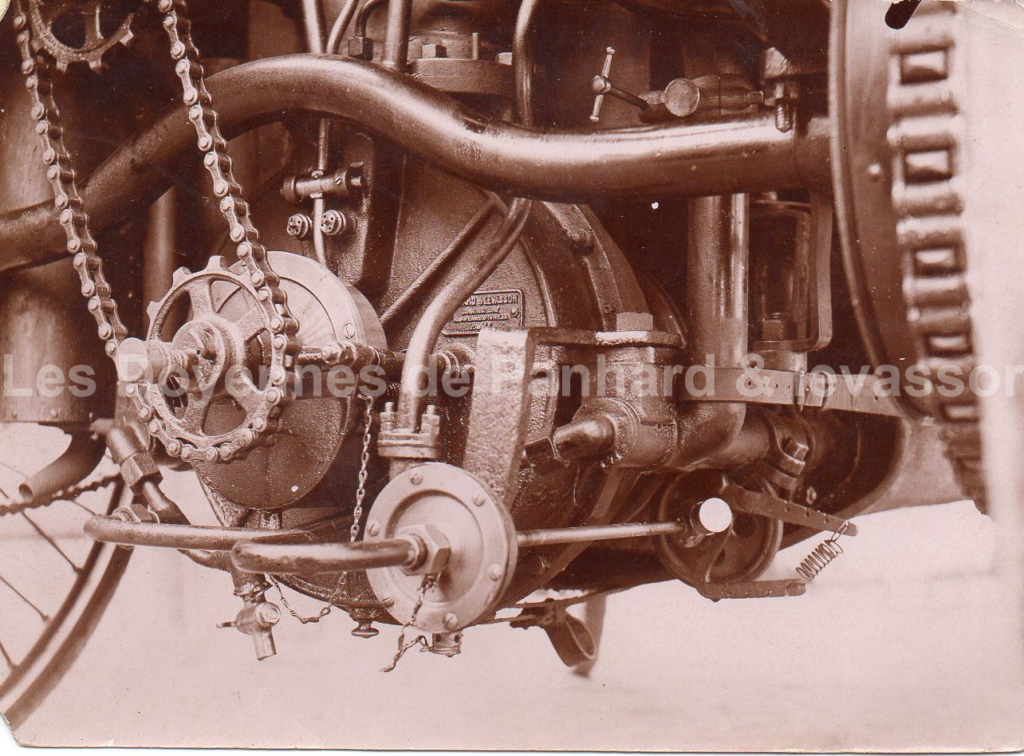 Too bad the color did not exist at the time, we imagine the brass pipes and brass hardware …
This is undoubtedly one of the first Peugeot P & L engine probably around 1898.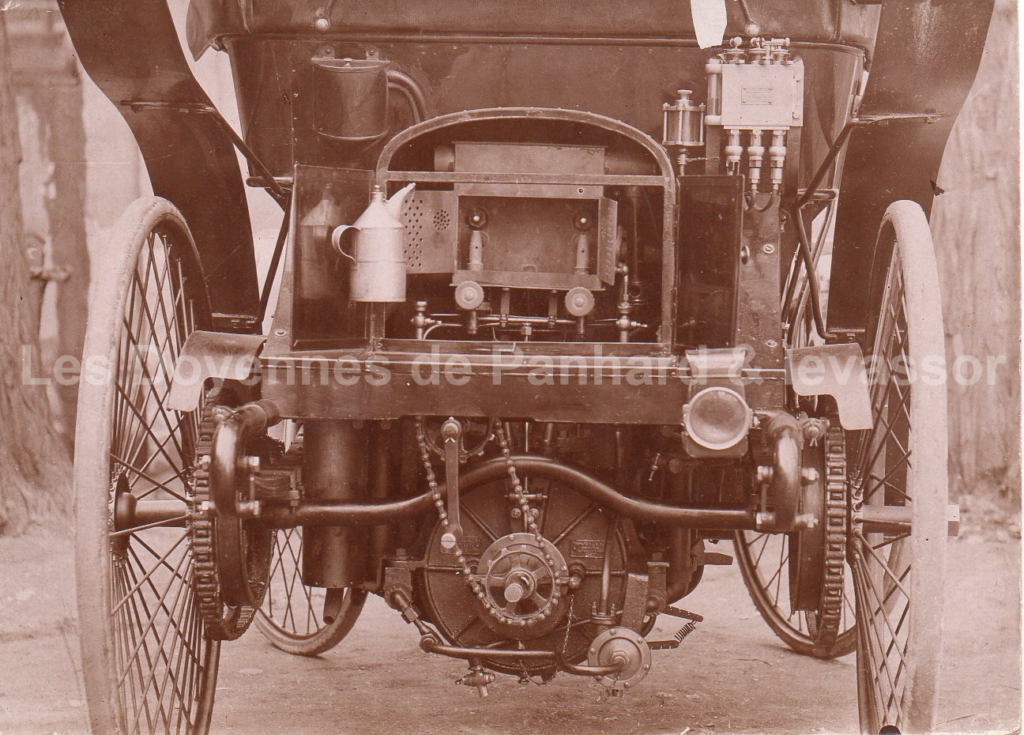 A press article of the time describes him prancing at the wheel of his Peugeot steam tricycle in the streets of Luc-sur-Mer.
Emile Berjot, Emile, the youngest, great-grandfather of Mr Cluzet returns to the merchant marine as pilot (second in command) in 1872, then as captain (he is appointed captain in the long course in 1878) aboard the liner Orénoque maritime couriers.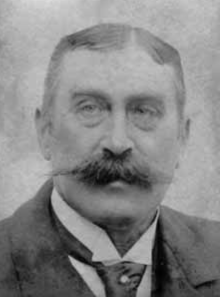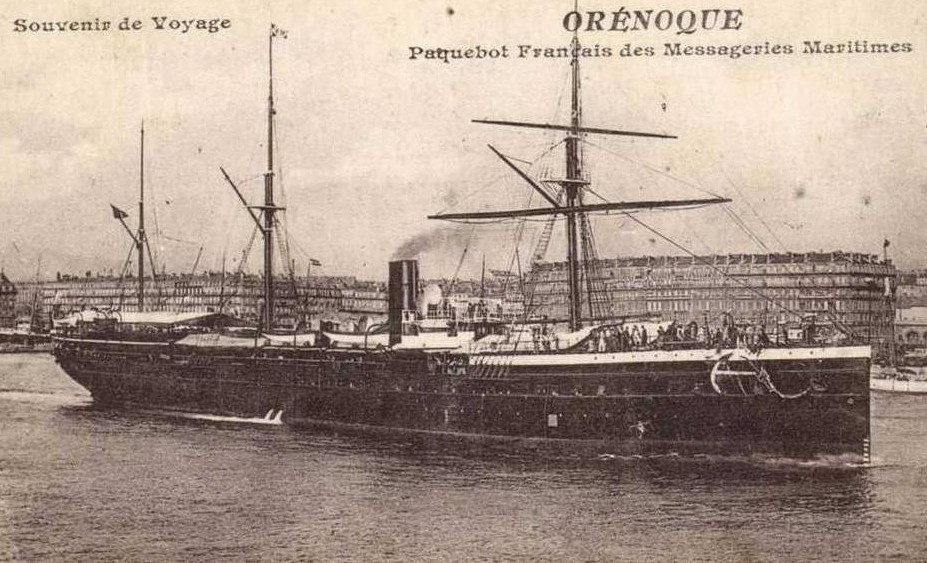 Ce paquebot mis en service en 1875 navigua pendant près de 50 ans, en méditérannée, en indochine, sur les lignes avec l'Amérique du sud, l'Afrique, avant d'être vendu pour démolition à Saigon en 1920
The father of Albert and Emile, Frédéric was the first photographer Caennais, founder of the Norman Society of Photography. Friend of Edmond Bacot (first professional photographer Caen) he teaches the art and technique of photography to Victor Hugo and his son Charles.
Emile Berjot, therefore, could only be passionate about photography. Marin he will photograph the maritime environment that he rubs every day (boats, passengers, ports etc). We owe him the first shots of Rio de Janeiro in the years 1880-1890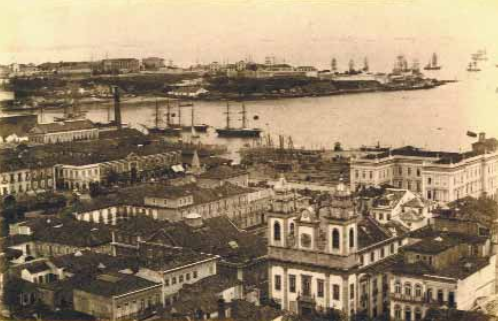 Une vue de Rio de Janeiro en 1895
And the car in all this? And here they are, the two brothers in their Panhard-powered Peugeot, probably at Luc-Sur-Mer in 1898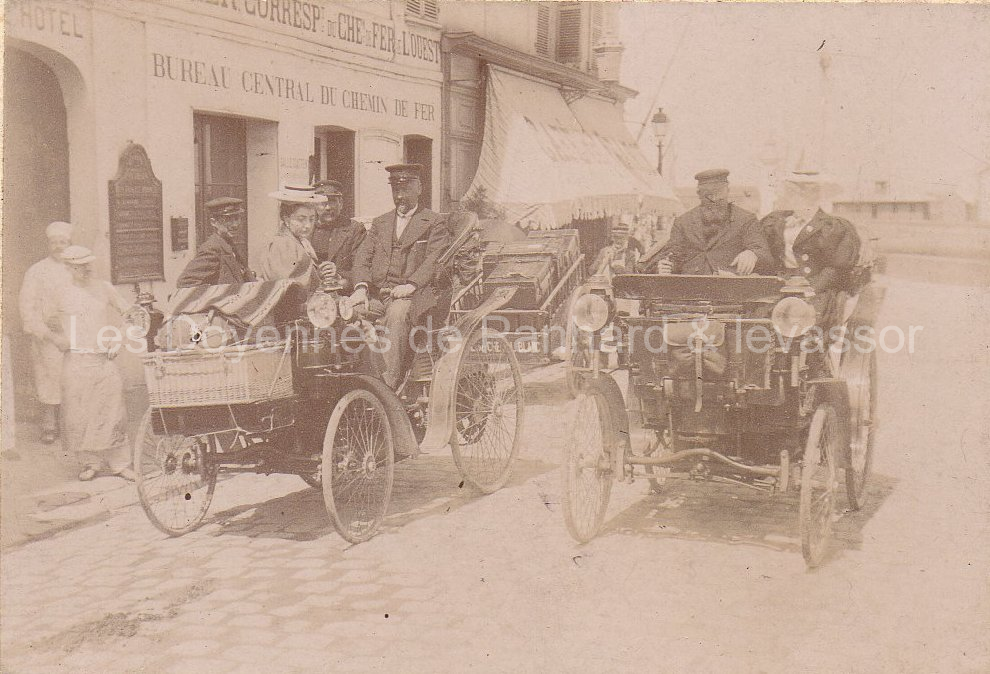 Emile gets married on January 8, 1896 with Françoise Germaine Gaume in St Honoré d'Eylau church in Paris
We see him here at the wheel of his Peugeot probably with family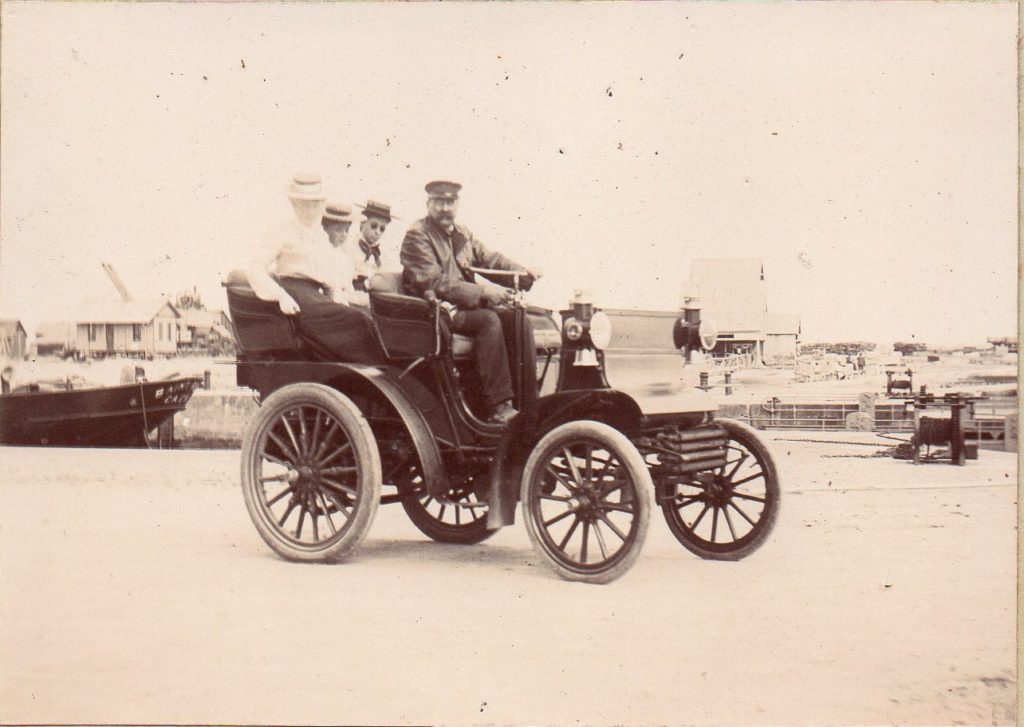 Years later we find him a passenger of his torpedo Peugeot. He left behind the wheel to his friend Mr Payen, at whom the shot was taken in 1913 in the alleys of the castle of Perron in Danvou (14). Behind his great-grandfather Emile, his wife and Mrs. Payen behind her husband. In the center, his grandfather Jacques Berjot (13 years old).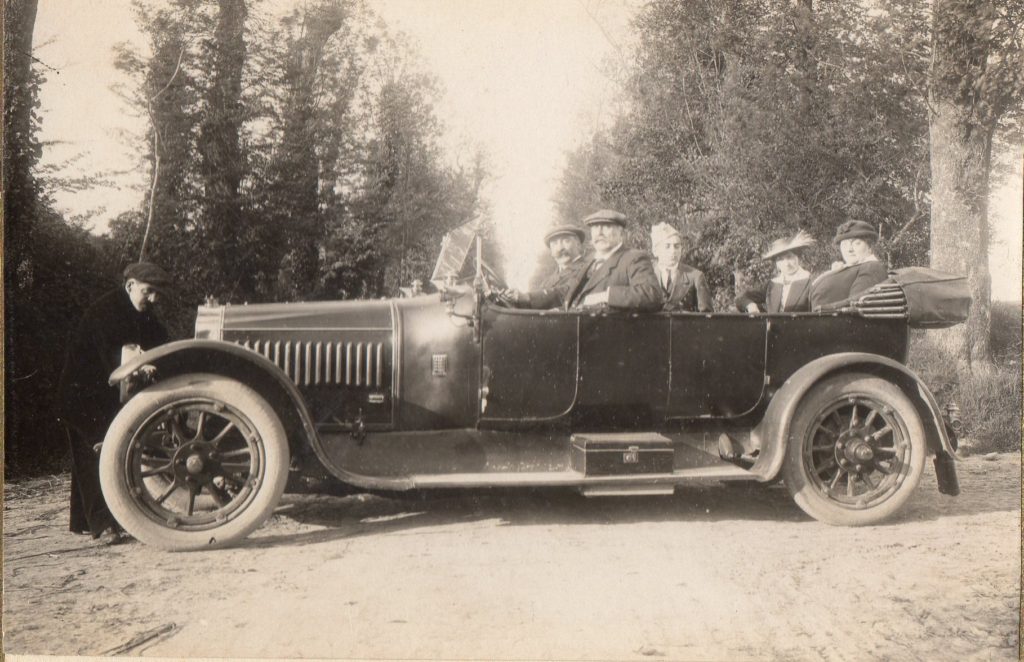 Finally last document older representing Emile Berjot the great grandfather of Mr Cluzet, driving his Peugeot always in front of the entrance of the castle of Perron.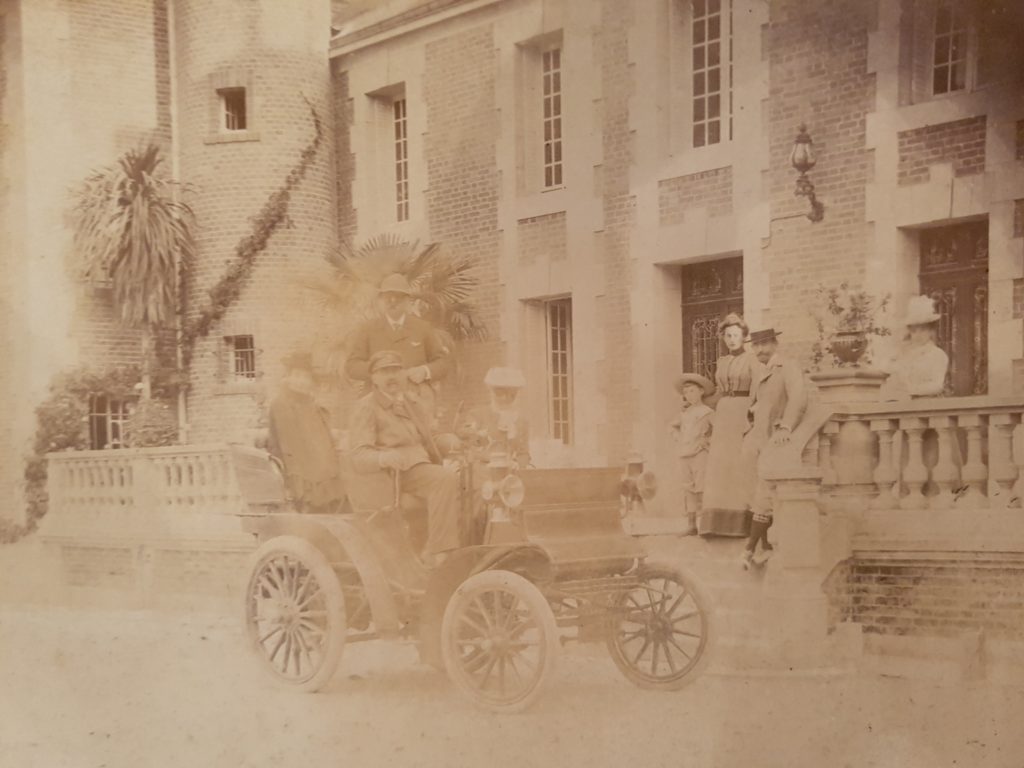 A big thank you to Mr Cluzet who kindly sent us these documents which allowed us to discover characters probably atypical and truculent in their time …
Mr. Challine sent us this photo of his grandfather's Panhard taken in October 1939. It is his aunt who poses in the photo. The license plate tells us about the department, here the Seine and according to the research of our friend Vincent it would have been registered in September 1933.
Anyway a nice picture …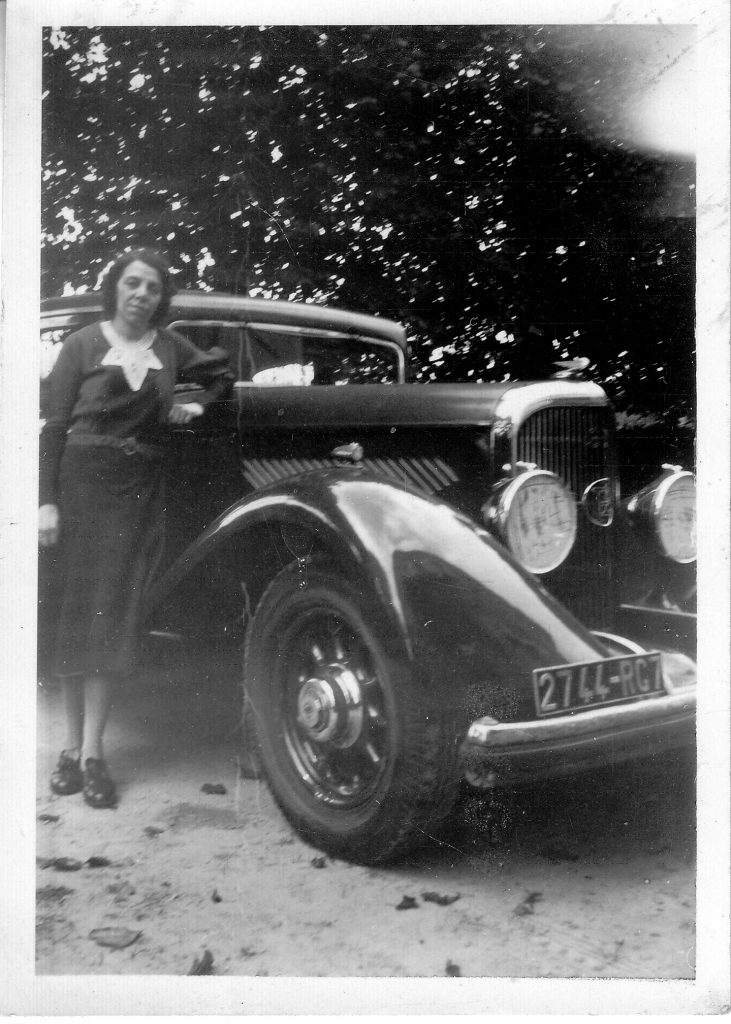 Mr Effler kindly shared his memories of this superb 1939 Dynamic bought by his grandfather in 1946 …
The cousins ​​of Jacques Effler, Michelle and Alain, look very small next to the glowing mastodon …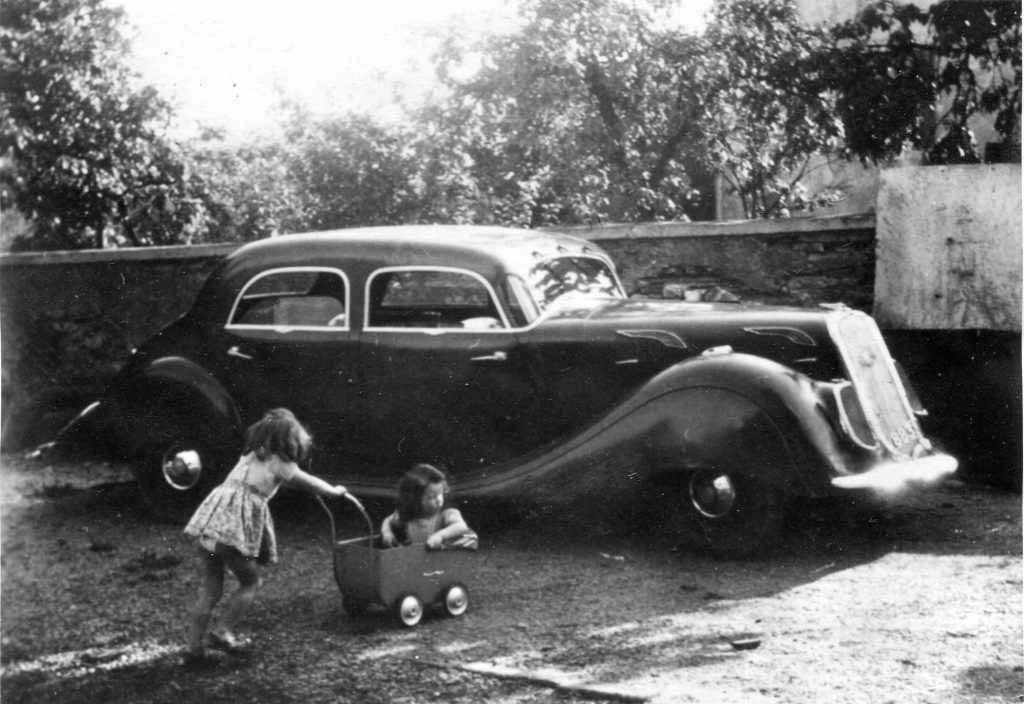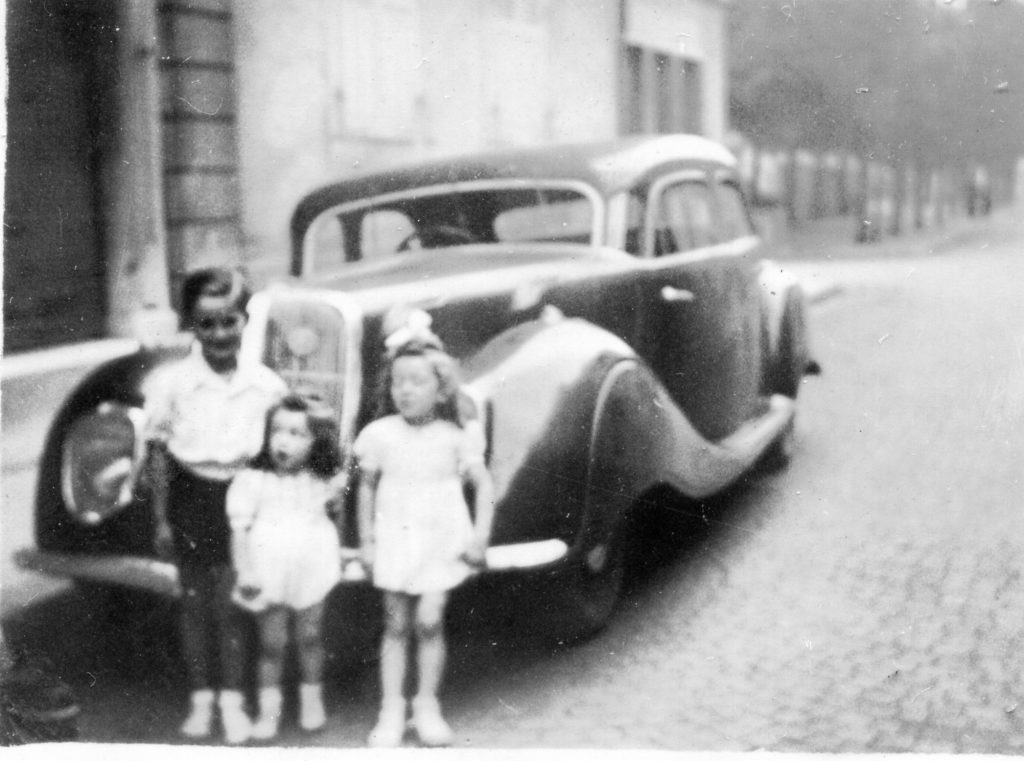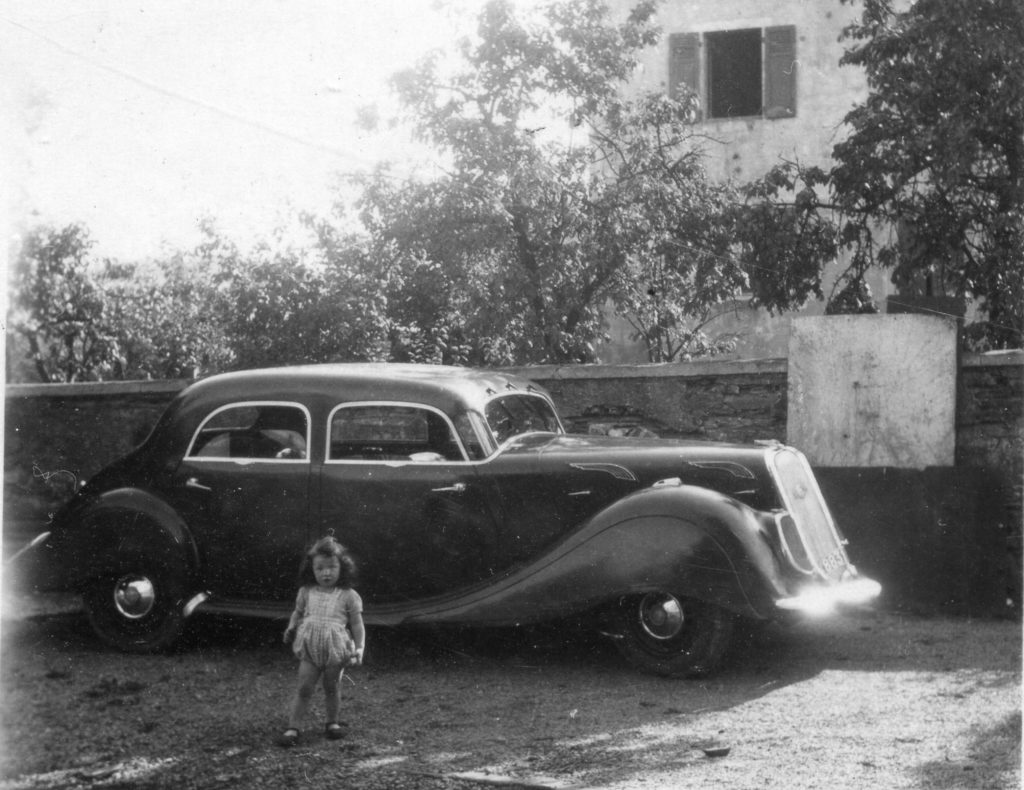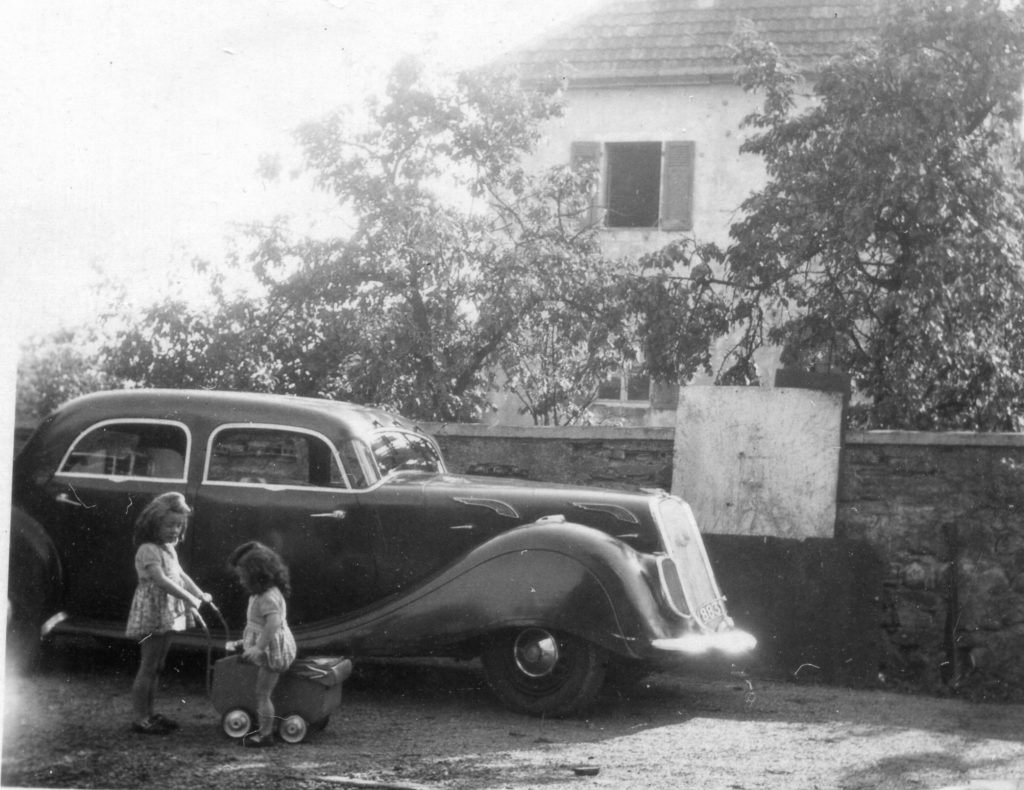 To learn more about this saga take the time to read Mr. Effler's text and let yourself be transported in the years after the war …
Lire les souvenirs de Mr Effler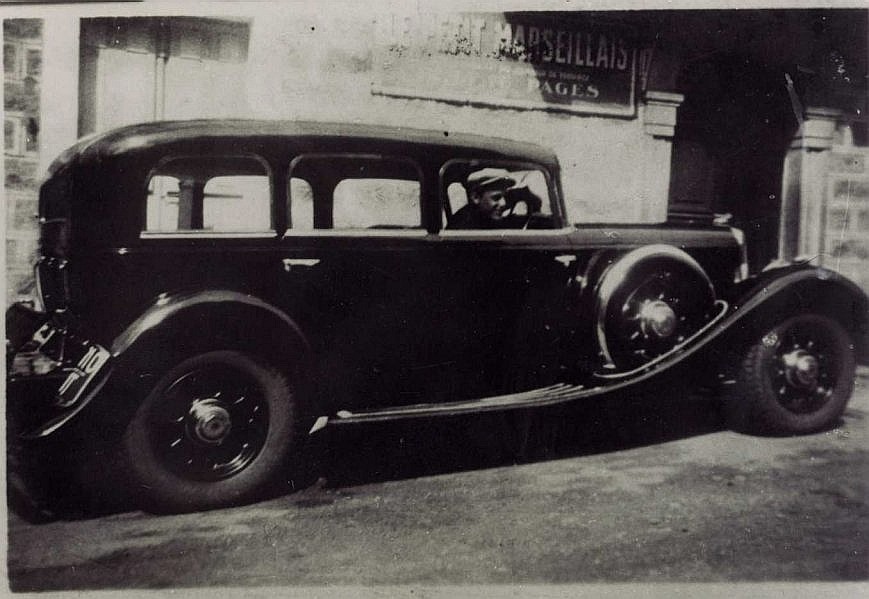 Regis sent us this photo of his vehicle that the family of the former owner had kindly communicated to him.
You can find his car now restored in the list of members.
The picture was taken in Zevaco in southern Corsica in the 30's.
---
Our friend Roland sent us two documents:
A pretty limousine 6 CS or 6 DS having belonged to the family BOOS-PETITFRERE-DELANNAY family of industrial spinning in Crousilles and Proisy. The number corresponds to the Seine and Oise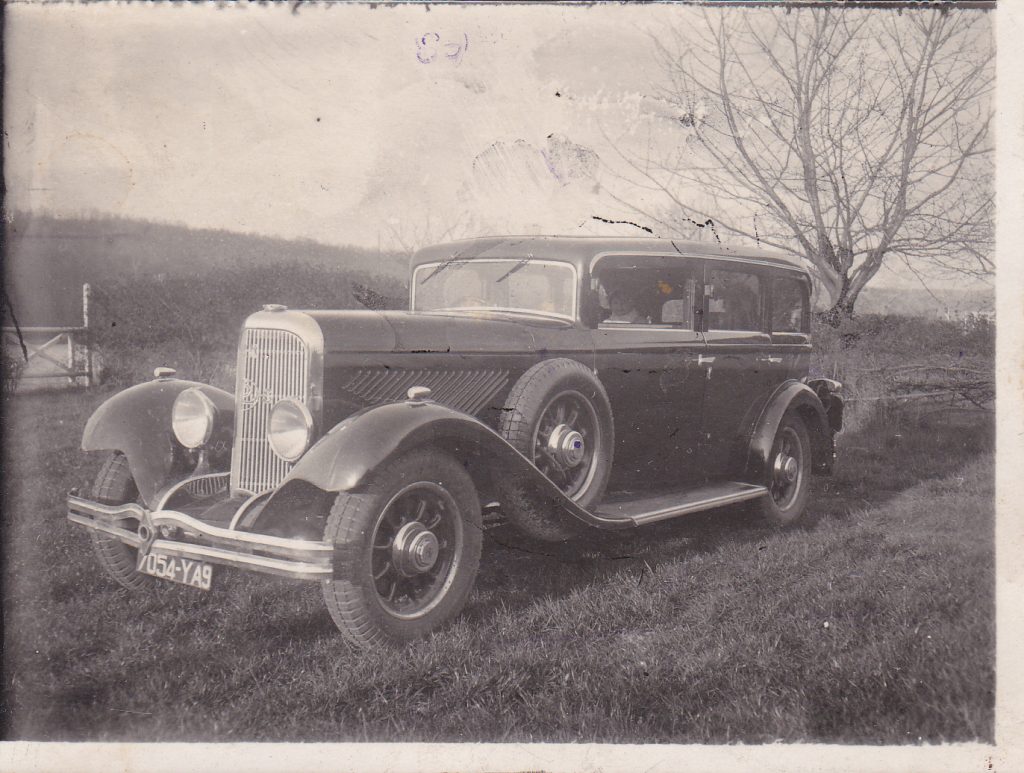 Postcard of a car of recovery of the factory in bodywork limousine, conduct inside 7 place, 20cv and undoubtedly a 6DS.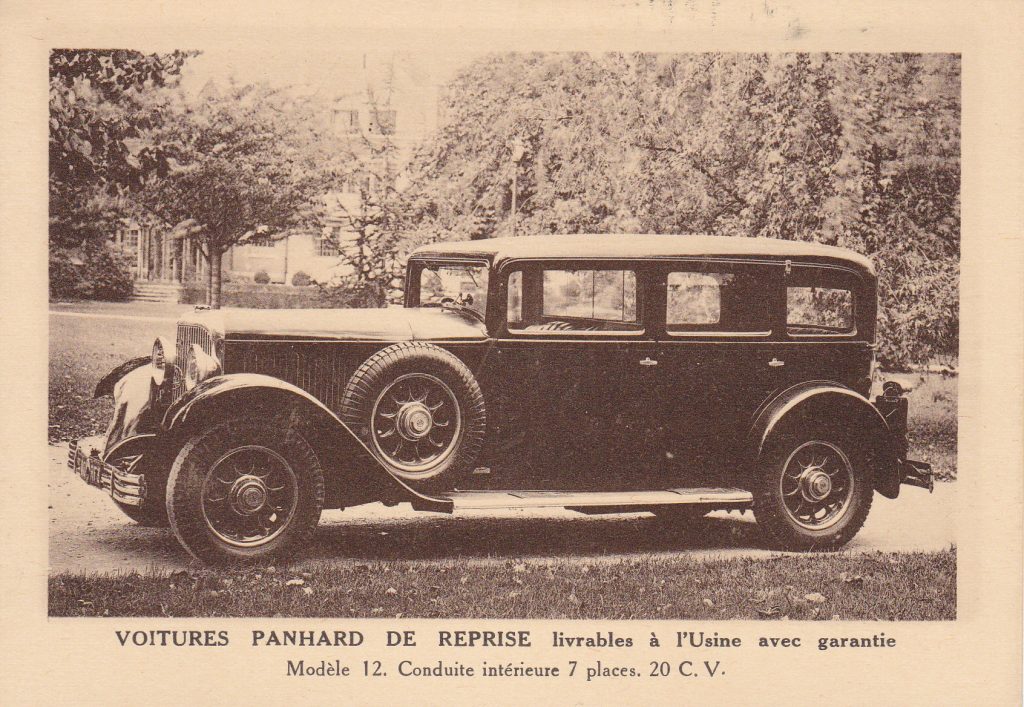 Mr Memponte kindly sent us these family photos. For the first, this is a Panhard limo & amp; Levassor, 6 Cyl bought new by his grandfather in 1927. The picture is taken at the neck of the sickle during a break. No snow, but probably a bit chilly … Mr Memponte's grandfather's father is on the right and he is the one who takes his friends in pictures.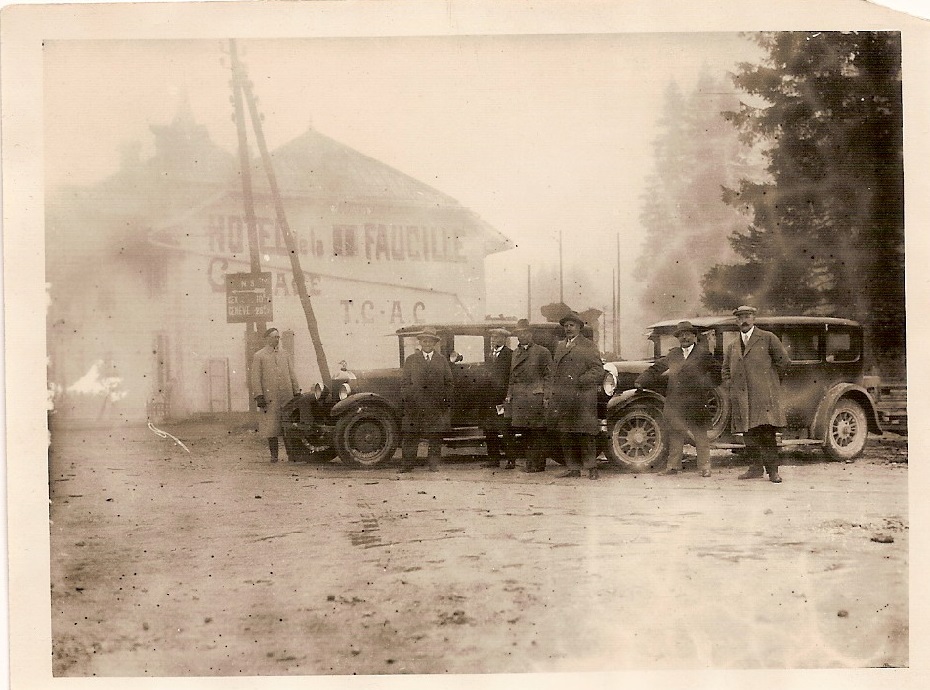 The second on a snowy road. No chains at the time for the 17 CV PL. We see the father of Mr Memponte and his mother behind in an outfit hardly adapted to the weather conditions it seems …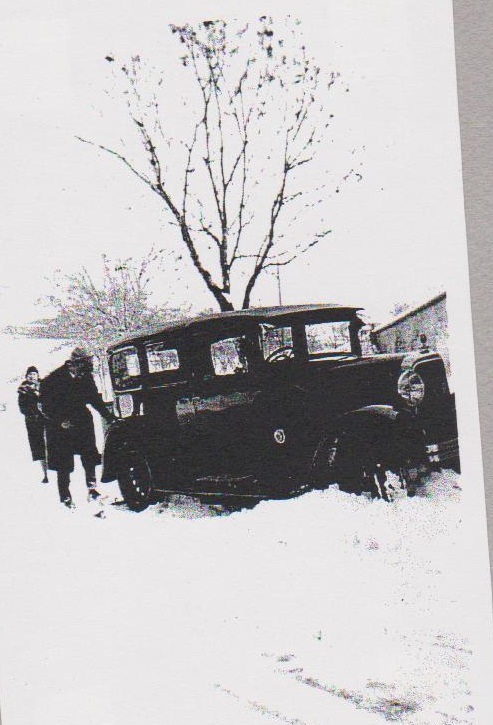 The third probably represents a roadster in a passage for the least difficult …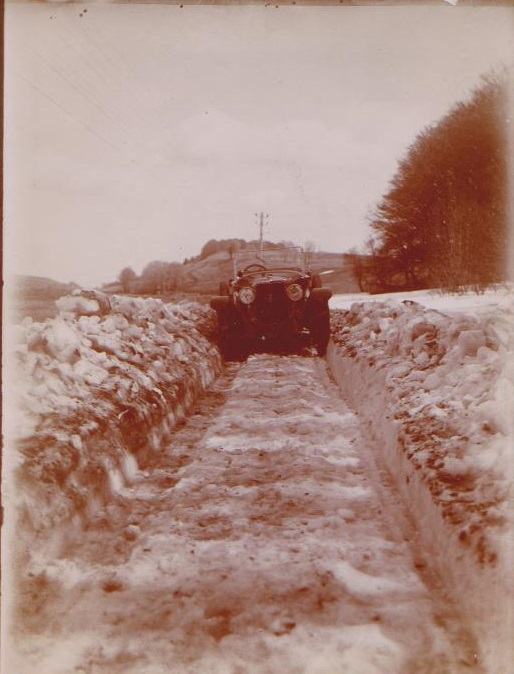 Our friend Neil Burdock sent us this magnificent photograph of the beginning of the previous century. There are four P & L and a Renault on the right. The license plates are well English and the handwritten inscriptions tell us about the different models. Thanks again to Neil for this beautiful document.