Biographie de René Panhard…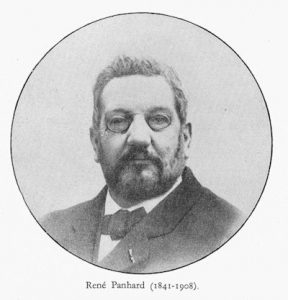 René Louis Francois PANHARD born on May 27, 1841 in Paris at 22 rue Bergère in the 9th arrondissement, after brilliant studies at the Sainte-Barbe college, he made the Ecole Centrale.
Shortly after his release, he met Monsieur Perin and came to work in his woodworking machinery factory. Very quickly Monsieur PERIN asked him to join him. The affair became the PERIN-PANHARD house.
The workshops proved to be too small because the business was expanding, and Rene PANHARD bought the grounds on the avenue d'Ivry and, in order to help him to reorganize everything, his comrade Of promotion, Emile LEVASSOR.
Shortly after the death of Monsieur PERIN, René PANHARD asked Emile LEVASSOR to become his partner. The two men had very different characters but they were perfectly complementary. They decided to embark on the great car adventure that was then called "horseless cars".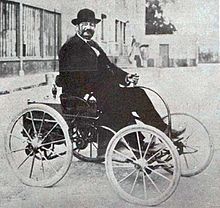 In November 1890, they decided not to build prototypes but 30 cars to satisfy the pioneers who wanted to use this mode of propulsion. These were not orders: cars were built first and then, afterwards, they were sold. The automobile industry was born that day, avenue d'Ivry in the workshops of PANHARD & LEVASSOR.
While Emile LEVASSOR was a genius and austere engineer, Rene PANHARD was an amiable, jovial, brilliant financier and incontestable trader.
Panhard is regarded as a pioneer of the French automobile industry. In 1867, he and Perin set up Perin, Panhard & Cie.
They were joined by engineer Émile Levassor as third partner in 1873. In addition to designing and manufacturing woodworking machines, the company devoted itself in 1876 to the production of stationary gas engines based on a licence from the Cologne-Deutz company Otto und Langen. From 1886, the French firm manufactured petrol engines under a Daimler licence. Around 1890, following Périn's death, Panhard and Levassor began installing engines in coaches. In 1891, the world's first series production set-up for automobiles, all featuring Daimler engines, took up operation under the brand name Panhard & Levassor. A transverse stabiliser bar for vehicles with rigid axles also is named after Panhard, the familiar Panhard rod.
From http://www.daimler.com